Community service groups merge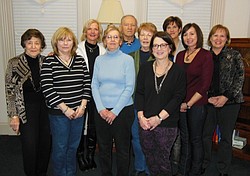 Photo
Neighbors | Submitted.The new members of the Board of Directors of Canfield Community Care Net are, from left, Nancy Price, Sue Janca, Nancy Conners, Jane Bolton, Andy Skrabola, Karyn Frederick, Melinda McGowan, Claire Glove, Leanne Butta and Debbie Roman. Not pictured is Rev. George Lee.
As of Dec. 31, the Canfield Community Chest has merged with the Canfield Community Care Net to continue their various missions into 2013.
The Community Chest has been assisting Canfield residents for more than 50 years by providing emergency money toward utility bills, distributing holiday food and gift certificates and networking with other organizations.
The Canfield Community Care Net was formed in 2002 through local church members wanting to provide assistance to families who are suffering financially because of a life-threating illness.
The group has distributed more than $300,000 and requests continue to grow each year.
A family liaison works confidentially with individual families to offer assistance with medical bills, pharmaceuticals, medical equipment, utility bills, etc. to help ease the burden.
Anyone with information on those in need, can call 330-207-6733. Anyone interested in donating or volunteering should call Nancy Connors at 330-980-3069.