Canfield preschoolers support Sandy Hook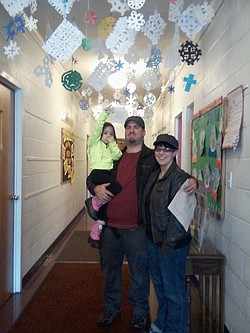 Photo
Neighbors | Submitted.The Riblet family, Brianne, Marc and Canfield United Methodist Church preschooler Evelyn, of Austintown, informed Carole Bogar, preschool administrator, that Sandy Hook Elementary School was collecting snowflakes to line the hallways of their new school. Evelyn pointed to the snowflake she made in support of the school.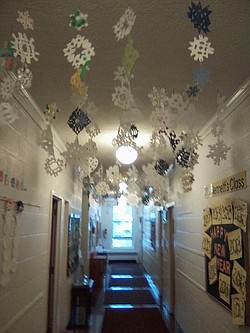 Photo
Neighbors | Submitted.Students at Canfield United Methodist Church Preschool made snowflakes in support of Sandy Hook Elementary School. The snowflakes hang in the school's hallway as a remembrance of those who lost their lives.
By ABBY SLANKER
Before her students left for Christmas break, Carole Bogar, Canfield United Methodist Church Preschool administrator, encouraged them to make snowflakes over the break and bring them to school with them when they returned. Bogar intended to send the snowflakes to Sandy Hook Elementary School to decorate the school for the children's return, at the request of the school's PTA.
When the preschoolers returned to school, with an overwhelming response to the snowflake request, Bogar was informed that Sandy Hook had received so many snowflakes from around the world that they had suspended collecting them and requested that no more be sent.
"That was wonderful news, but I wondered what we would do with the ones we collected. I thought that I would just hang them in our hallway in remembrance and so I notified the families that I was going to do that," Bogar said.
As Bogar sorted through the snowflakes, she realized the preschool had collected more than 110 snowflakes. She proceeded to hang the snowflakes in the school's main hallway.
"As I stood back and looked at it, I was in awe at how something that wasn't planned ended up being so beautiful," Bogar said.
Bogar made a snowflake to hang in the middle of the others which hangs just a little lower so that everyone who passed through the hallway could clearly see it.
The snowflake reads:
"Welcome to our hallway of snowflakes! These snowflakes were made by the children and families of the preschool. They made them over Christmas break for Sandy Hook Elementary School. On Jan. 2, I was notified Sandy Hook did not need any more snowflakes! So I decided to use the snowflakes to decorate our hallway. They hang here in remembrance of those who lost their lives that day. Please take a moment to consider those precious lives and give the children in your life an extra hug!"
More like this from vindy.com