Austintown Bounce makes safety top priority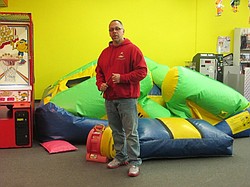 Photo
Neighbors | Natalie Scott.Austintown Bounce co-owner Bruce Shepas organized and gave the presentation on bounce-around safety and sanitation at the Austintown Bounce Dec. 10.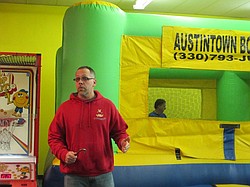 Photo
Neighbors | Natalie Scott.During the deflation and inflation of the bounce-around, co-owner Bruce Shepas talked about safety and sanitation procedures when handling a bounce-around.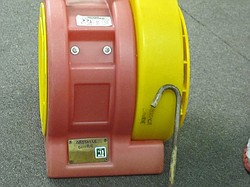 Photo
Neighbors | Natalie Scott.All of the equipment at Austintown bounce has been inspected and certified according State of Ohio safety regulations.
By NATALIE SCOTT
Austintown Bounce hosted a bounce-around safety presentation Dec. 10, organized by co-owner Bruce Shepas.
"We decided to give this presentation because of all the negative publicity that inflatables have gotten in the last few months," said Shepas. "I think the important thing to remember here is that store-bought inflatables are just not as durable. They aren't made to last very long. Then you have to worry about proper set-up, take-down and sanitation."
Shepas went on to say that the state of Ohio has certain certifications that bounce-arounds are supposed to maintain. Austintown Bounce is one of the few sources for bounce-arounds that actually has and maintains these certifications and even a few extra ones not required by law.
Shepas and co-owner Harold Porter have added their own safety standards in order to go "above and beyond."
"We have all the certifications here in the Bounce and we are authorized to give certification classes to our employees. Each employee here has to go through some type of certification process through me," said Shepas. "Customer safety is our No. 1 priority."
While store-bought bounce-arounds may not be safe, Austintown Bounce does offer bounce-around rentals. They offer set-up and take-down and all of their bounce-arounds are always sanitized according to safety standards. To learn more, visit www.austintownbounce.com or call 330-793-5867.
More like this from vindy.com