Alumni association awards teacher grants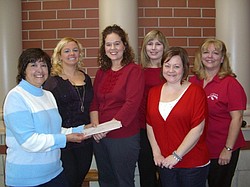 Photo
Austintown Middle School teachers honored were, from left, (front) Alumni Teasurer Shirley Smith (presenting checks) and Joy Noble; (back) Jolene Ross, Kari Knight, Michelle Porter, Ruth Murosko. Not pictured are Stephanie Camardese and Michele Best.

Photo
Others honored are, from left, Trish Guenther (Fitch), Kelley Mills (Elementary counselor), Mary Ellen Leskovec (Fitch) and Heather Landgraver (Frank Ohl.)
The Austintown Alumni Association has awarded mini grants to several teachers for the 2012-2013 school year. The grants this year were funded up to $150 and will be used for classroom and student instruction.
Austintown Middle School teachers receiving grants are Jolene Ross, Kari Knight, Michelle Porter, Ruth Murosko, Joy Noble, Stephanie Camardese and Michelle Best. Other recipients include Trish Guenther and Mary Ellen Leskovec, from Fitch High School; Heather Landgraver from Frank Ohl; and Kelley Mills, an elementary counselor.
The alumni association's final project for this year will be awarding scholarships to qualified seniors.
Membership in the association is open to all Austintown Fitch graduates and friends of the Austintown Schools. Contact Parti Griffin at 330-793-4799 or mail to AAA 4560 Falcon Drive, Austintown, OH 44515 for information about membership, donations or activities.