YSU women earn 500th victory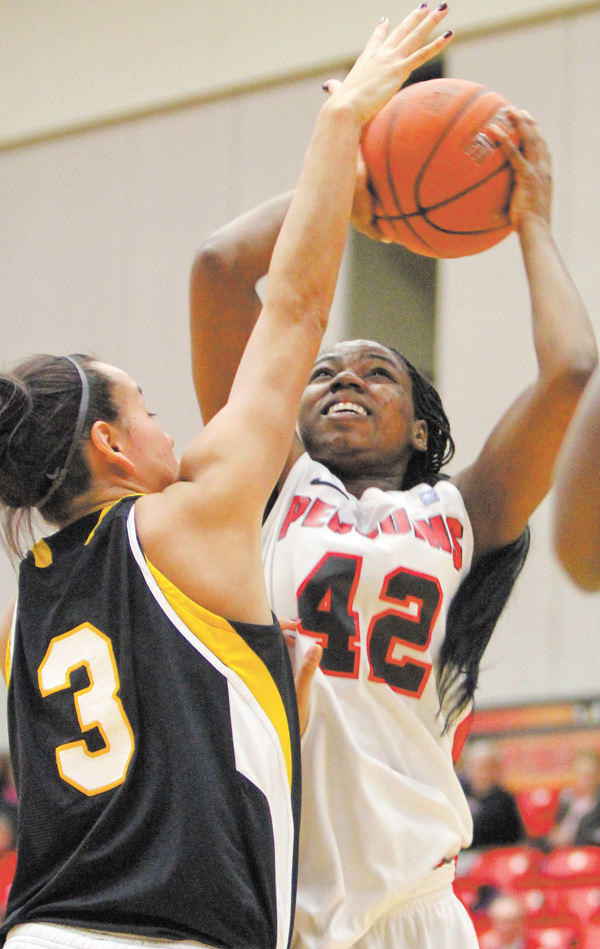 ---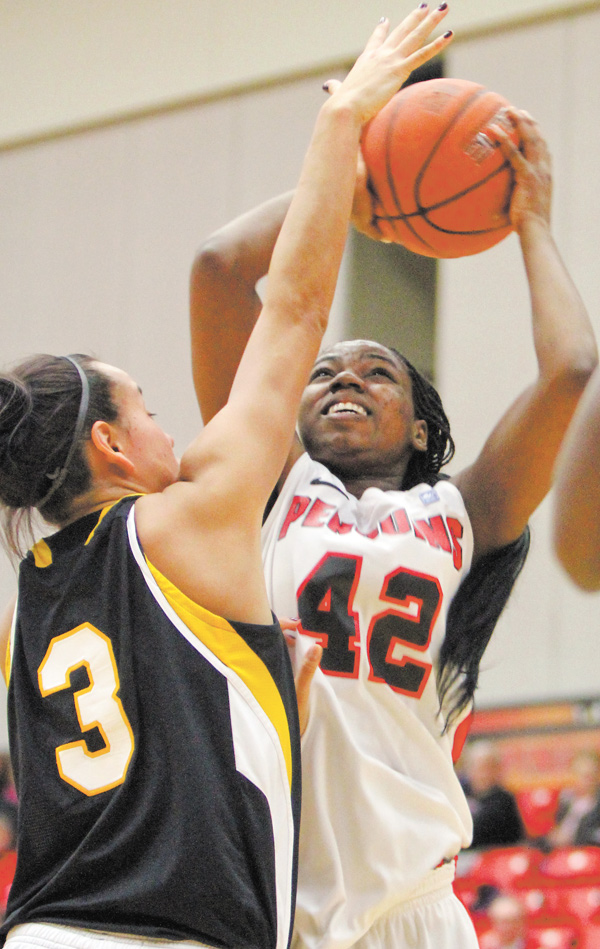 Photo
Youngstown State's Brandi Brown (42) puts up a shot against Wisconsin-Milwaukee's Emily Decorah (3) during the first half of Thursday's game at YSU's Beeghly Center. Brown posted 18 points in the Penguins' 67-50 win over the Panthers.
Monica Touvelle's career-high 23 help Penguin women rout Milwaukee
By Joe Scalzo
YOUNGSTOWN
Who said Youngstown State can't rebound?
Five days after playing maybe their worst game of the season, the Penguin women played one of their best, dominating Milwaukee 67-50 Thursday at Beeghly Center to snap a 10-game losing streak in Horizon League play, snap a 15-game losing streak to the Panthers and reach 500 victories as a program.
"I think they've responded all year," Penguins coach Bob Boldon said. "We've done well after losses. Good losses, bad losses, whatever. I think they've come in with a little bit of a bounce in their step and a little bit of a chip on their shoulder, so to speak.
"I thought our energy level was back where it was before Christmas break, which was nice to see."
Boardman High graduate Monica Touvelle, a junior guard, scored a career-high 23 points — and needed just 11 attempts and 24 minutes to do it.
Touvelle was 5 of 8 from behind the arc — the rest of the Penguins were 0 for 12 — and surpassed her previous best (20) with a nifty pump-fake/drive to the basket.
"Yeah, I surprised myself with a couple layups there; it doesn't happen much," said Touvelle, who was shooting just 33 percent from the field this year but went 8 for 11 on Thursday. "I'm a shooter. I haven't been shooting so hot this season but I'm not going to stop because if I stop, I'm never going to have a game like this.
"It felt good to just let them go and see them go in."
The victory, YSU's first in the league since Feb. 2, came on the heels of a 67-59 loss to Valparaiso last weekend in which the Penguins blew a 15-point lead and were outrebounded 46-22.
Earlier this week, Boldon said the Penguins wouldn't win another game with that type of effort.
How about with Thursday's effort?
"I think we'll be in good shape," Boldon said.
Brandi Brown added 18 points while Karen Flagg and Shar'Rae Davis each had 10 for YSU (11-4, 1-1), which held Milwaukee to 17 points fewer than their season average. Freshman guard Amanda Barger was helped off the floor midway through the second half with an ankle injury and will get X-rays today.
The win boosted YSU's all-time record to 500-499. Ed DiGregorio won 319 of those from 1983-2003.
"Obviously Coach DiGregorio deserves this accolade," Boldon said. "I just happened to be here today. He's won more games than I've coached.
"Hopefully he gets to enjoy this in some way or some fashion because really it's his doing. He started this thing and my job is just to try to keep it going in the right direction and try to restore a little bit of the tradition that's been so good here."
Emily Decorah scored 14 to lead Milwaukee (4-10, 0-2), which trailed by 27 with five minutes left.
The Panthers hadn't lost to YSU since February 2005, which happens to be the same month the Penguins last beat Green Bay.
YSU hosts the Phoenix on Saturday.
"They're obviously a very good team so you've got to kind of pick and choose what you're going to prepare for [with one day of practice] and hope your offensive and defensive principles can carry you the rest of the way," Boldon said of the Phoenix. "They play hard. I think that's their greatest attribute, just how hard they play possession after possession.
"I think that will be our greatest challenge, trying to match their intensity."