Canfield's boys swim team is unbeaten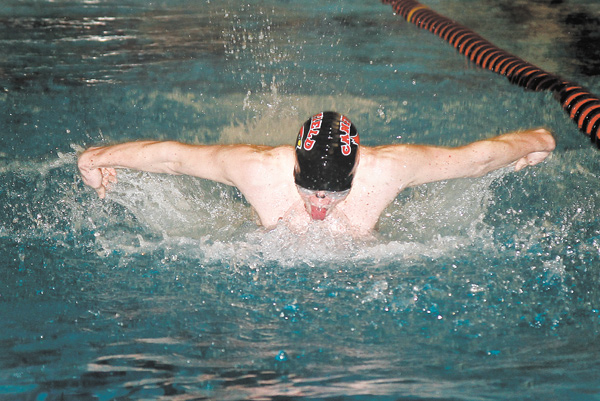 ---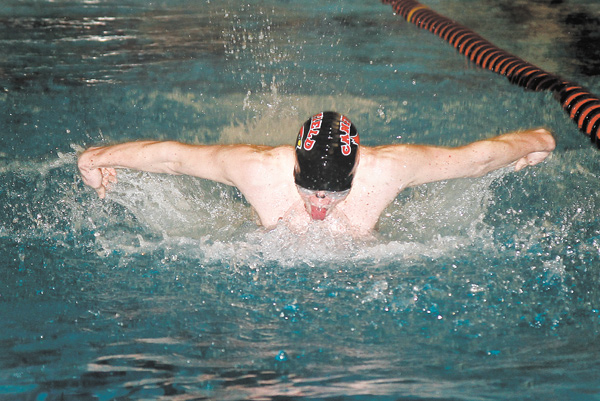 Photo
Canfield sophomore Connor Brady competes Wednesday in the 200-meter butterfly relay during a swim meet against Alliance at the YSU natatorium. The boys remain undefeated, with Brady poised to make a return to state competition.
Canfield's swim teams are more than simply staying afloat
By DAN POMPILI
YOUNGSTOWN
Some students swim and others cheer their teammates, while many Canfield High School swimmers are sitting in poolside chairs at the YSU's Beeghly Natatorium studying for Thursday's finals.
"I'm letting them get away with it tonight," says head coach Andrea Linnelli.
She doesn't have much to worry about anyway.
The end result was another Canfield win. The girls pushed their record to 7-2 with their 144-35 victory, while the boys remain undefeated, besting Alliance 136-33.
In this, her 14th season as Canfield's swimming coach, Linnelli said her team is not necessarily the best she's ever had, but both teams have won several matches by large margins, including some 100-point victories, like Wednesday's. Canfield boys beat Massillon Perry 138-42, they bested Beaver Local 134-35 and Hubbard, 128-35.
With less than a month until the tournament, Linnelli said she expects her boys to win out and is hopeful the girls will take at least two out of three of their remaining "tough" meets against Jefferson, GlenOak and Boardman.
Last year's freshman qualifier for state, Connor Brady is poised to make a return in the fly and backstroke events as well as the 200- and 400-meter relays, along with junior teammate Daniel Bogen.
"We're hoping to get more boys to qualify," Linnelli said.
The difference may be the added conditioning and weight-training day. In previous years they trained two days a week on weights and conditioning, except for adding Fridays in November. This year, Fridays are just part of the regular routine.
"They're more tired this year, but that's okay. Hopefully when we get to the tournament and when they start to taper a bit, it will pay off," Linnelli said. "We have to be creative in keeping our kids on pace with the students from other schools that have their own facilities."
Brady said he feels they are focusing more also on the small things.
"We're pretty much doing all the same things but we're focused on the small stuff like turns, not breathing off of each wall, kick-outs and lots of kicking, lots of kicking," he said.
Bogen likes the team's diversity.
"In the past we had more focused talent, but this year we don't have any superstars and that's what makes us a good team," he said. "If one person jumps in the water and doesn't do so well, you have four others who can step up."
"I can put them anywhere and they can score points," Linnelli said. She has forced them into swimming other events to break them out of their comfort zones. "That helps me to know who is best in what spot and helps me when I start to assign for the tournament. That's part of their success is that they're well-rounded swimmers."
They had to be to make up for one notable deficiency: there are no boy divers.
"That's like just handing an opponent points or forfeiting one entire event when they have divers and we don't," she said.
In the North East Aquatic Conference meet, one of the two conferences Canfield competes in, the boys entered the meet with a 37-point deficit after having not competed in the previous night's dive event.
"But as the day went on we started making up the points through each event," Linnelli said.
Canfield won that conference title as well as the All-American Conference championship.
Bogen gets out of the pool after narrowly beating one of his teammates at the last second.
"A little slow out of the start?"
Linnelli nods and councils him.
"They get out now and they already know what I'm going to say to them, and they say it to me," she said.
She's quite pleased.
"It means they know what they need to work on in practice and they do it. At this point in the season we have to remain focused on the finer things to be able to move on," she said.
Sectionals begin the second Friday in February and Linnelli will learn then if her team's focus has been fine enough.