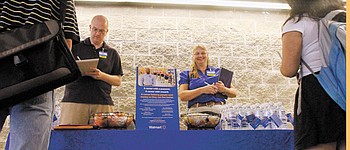 Wal-Mart to hire vets, buy more American goods
Published: 1/16/13 @ 12:15
Associated Press
NEW YORK
Why wait on Washington to fix the economy when there's Wal-Mart?
Wal-Mart Stores Inc., the world's largest retailer and the biggest private employer in the U.S. with 1.4 million workers here, said Tuesday it is rolling out a three-part plan to help jump-start the sluggish U.S. economy.
The plan includes hiring more than 100,000 veterans in the next five years, spending $50 billion to buy more American-made merchandise in the next 10 years and helping its part-time workers move into full-time positions sooner.
The move comes as Wal-Mart attempts to bolster its reputation, which has been hit in the past year by a purported bribery scandal in Mexico and a deadly fire at a Bangladesh factory that supplies clothes to the company. Wal-Mart, which often is criticized for its low-paying jobs and buying habits in the U.S., said its plan aims to highlight career opportunities in the retail industry, which supports one in four jobs in the country. The company's plan could have an impact on the U.S. economy: With $444 billion in annual revenue, if Wal-Mart were a country, it would rank among the largest economies in the world.
"We've developed a national paralysis that's driven by all of us waiting for someone else to do something," Bill Simon, president and CEO of Wal-Mart's U.S. business, said Tuesday at an annual retail-industry convention in New York. "The beauty of the private sector is that we don't have to win an election, convince Congress or pass a bill to do what we think is right. We can simply move forward, doing what we know is right."
At the center of Wal-Mart's plan is a pledge to hire veterans, many of whom have come home from Afghanistan and Iraq and have had a particularly hard time finding jobs. The unemployment rate for veterans who served in Iraq or Afghanistan stood at 10.8 percent in December, compared with the overall unemployment rate of 7.8 percent.
Don't Miss a Story
Sign up for our newsletter to receive daily news directly in your inbox.