Warriors surge past Vikings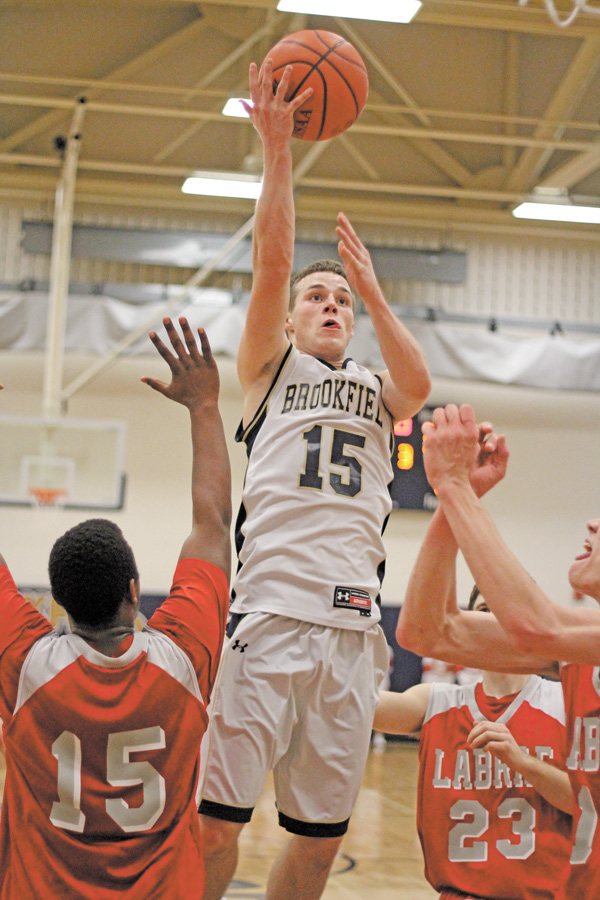 ---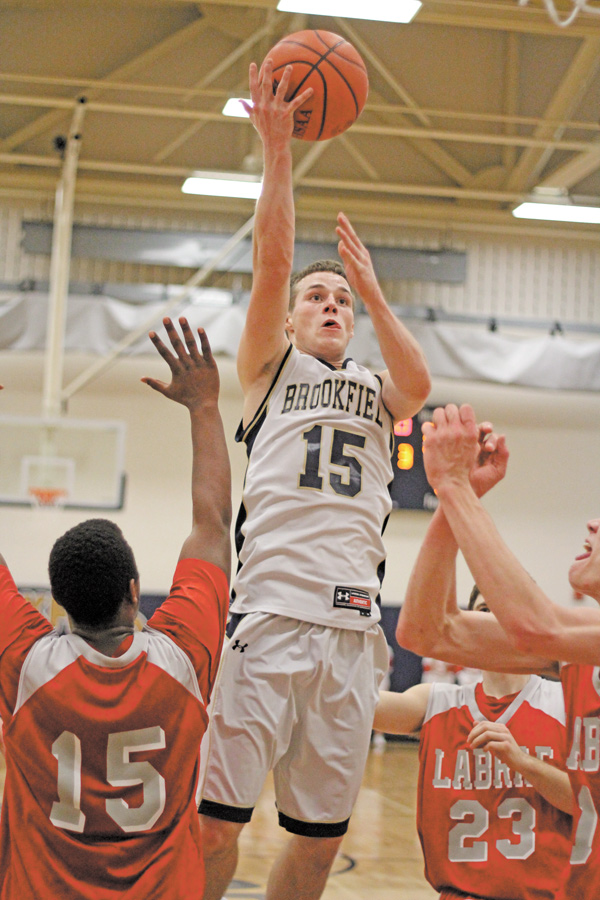 Photo
Brookfield's Jeremy Quinlan (15) scores a layup over LaBrae's Carl Brown, left, during Tuesday's basketball game at Brookfield. Quinlan scored a game-high 25 points in the Warriors' 66-61 victory.
By Tom Williams
BROOKFIELD
In an intense battle of 8-1 teams, the Brookfield High boys basketball team struggled mightily, falling behind 11 points in the first eight minutes.
Then Warriors senior Jeremy Quinlan became red hot, hitting his next four shots, all from behind the arc.
Quinlan finished with 25 points and made seven rebounds on Tuesday night as the Warriors (9-1) defeated the Vikings, 66-61.
"Give them credit — they knocked down the open shots, but we let them get open," LaBrae coach Chad Kiser said. "We didn't close out. You've got to close out Quinlan, we know that. We lost our defensive intensity and our focus."
Quinlan's coach, Bill Kovach, was even more impressed with Quinlan's defense against LaBrae senior Peyton Aldridge.
"They are a really special team," Kovach said of LaBrae (8-2). "They have a lot of pieces, they have shooters. They have Peyton Aldrige who I consider to be probably the premier player in the Mahoning Valley.
"Jeremy Quinlan stepped up and played a great defensive game on him in the first half, kind of brought us back," Kovach said. "Everything [Aldridge] shot, [Quinlan] had a hand in his face."
Aldridge finished with 15 points, four rebounds and two blocked shots. He scored six points in the first half.
Quinlan felt he was better on defense, at least until he took his fourth foul with 5:28 to go.
"No one gets in him [and] you have to get in him to distract him, make him off his game," Quinlan said of Aldridge. "That's what he was tonight."
Well, maybe after the first quarter. The Vikings were rolling early, jumping out to a 19-8 lead. Tyler Shiamone scored five points while Aldridge and Marcell Richardson each scored four.
Quinlan's 3-pointer explosion keyed the Warriors' 16-4 run that turned the tide. Right before halftime, Collin Harkulich's 3-pointer put the Warriors ahead for keeps, 27-25.
Kovach said momentum changed before the second quarter.
"Halfway through the first quarter, we started to rebound," Kovach said.
Kiser was impressed.
"All night, they beat us to the 50-50 balls," Kiser said. "And with offensive rebounds, we didn't box. You can't do that against a good team.
"They played hard, they hustled, and we didn't match their intensity for four quarters," Kiser said.
The lead grew to as many as nine in the third quarter before the Vikings mounted their own comeback.
Trailing 44-37 to open the fourth quarter, the Vikings capitalized on most of their free throws as the Warriors tasted foul trouble. Harkulich played the final 6:20 with four fouls.
In the final quarter, the Vikings made 12 free throws, with Aldridge making eight.
Shiamone's 3-pointer sliced the Warriors' lead to 57-54. Then with 32 seconds to play, Kenny Hall hit a 3-pointer to make it 62-61.
"We fought hard," Kiser said of the comeback. "We hit the shots we needed to hit to close the gap."
But that was as close as the Vikings would get. After Brookfield's Derrick Dickson made two free throws, LaBrae's John Richards missed two. Jimmy Quinlan sealed the victory with two more.
Harkulich scored 17 points and made five rebounds while Dickson netted nine points.
For the Vikings, Richardson and Nathan Middleton both scored 10 points while Shiamone had nine.