Dorsey helps WGH stop East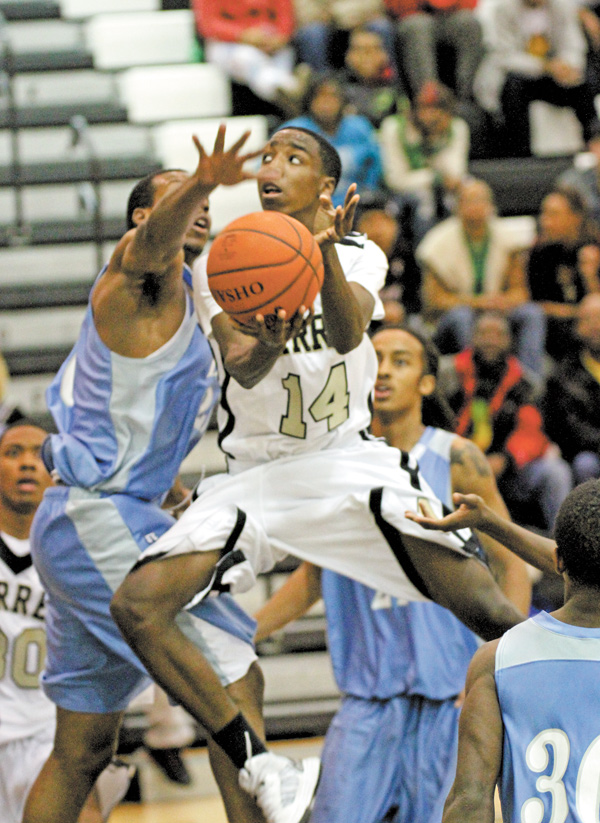 ---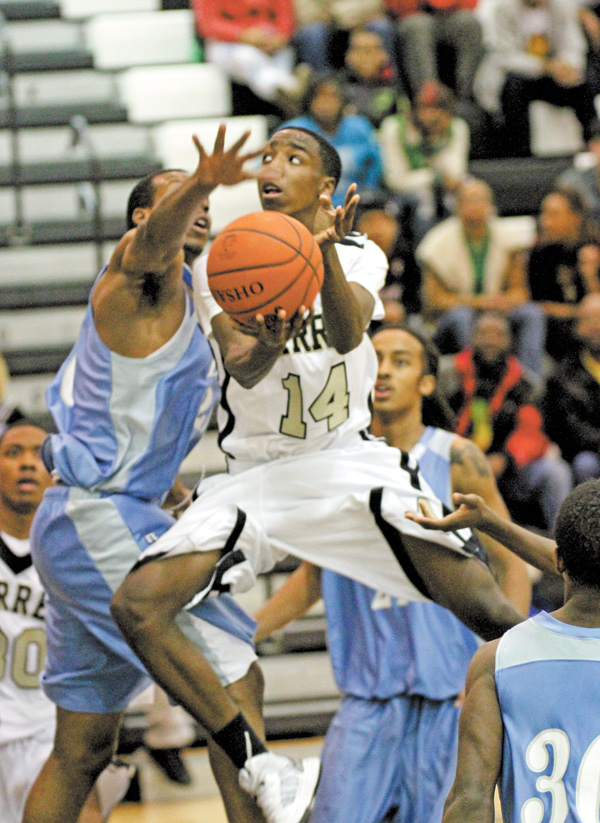 Photo
Warren Harding's King Garner (14) goes for a layup during the Raiders' game against East on Tuesday at Warren.
By Brandon Judeh
Warren
In a game that was hyped for weeks, Warren Harding senior Mik'quan Dorsey stepped up his play and helped the Raiders hold off East, 63-60, on Tuesday night.
Harding (7-5) had a double-figure lead for most of the game, until the Panthers (9-4) made an unbelievable fourth-quarter comeback to cut the lead to just two with 1 minute remaining.
But the Raiders were able to hit free throws and cause turnovers to hold off the pesky Panthers.
"We had a lot of turnovers in the fourth quarter," Dorsey said. "Guys weren't in the right places and I wasn't putting guys in the right places."
Dorsey, who came up with a key steal with under 30 seconds left, said it was time to step up.
"I knew that I had to come up with a big play and they were passing the ball around a lot so I just went and got the ball," he said.
Dorsey finished the game with six steals, but it was his offense that sparked a big lead for the Raiders early.
Dorsey dominated the first quarter as he lit the court, and crowd, on fire by hitting three 3-pointers in four trips down the court, igniting Harding to an early nine-point lead.
"I was hot at the beginning of the game," he said. "Eventually I knew the game was going to slow down and that we were going to have to get some open layups and pass the ball around more."
Dorsey finished with five 3-pointers and 19-points.
Harding took a 41-28 halftime lead and looked poised to win a laugher, but East had other ideas.
The Panthers came out running, causing several Harding turnovers that soon led to East chipping into the deficit.
Their defensive pressure was lead by Marquis Cotton and Taylor Johnson, who combined for eight steals.
East did not let up in the final period, as they caused 13 turnovers in nearly catching Harding.
"Losing leads seems to be a trend for us this year," Raiders head coach Andrew Vlajkovich said. "If you look back at our games this season, there are times that we look very fundamental and crisp. For some reason we get caught up in the game and start to hurry, which makes us forget about what got us the big lead."
East outscored the Raiders 21-10 in the fourth quarter.
"It was very important that Mik'quan and the rest of the guys started off hot, because they ended about as cold as you can get," Vlajkovich said.
Harding's Anthony Bell scored 19 points, grabbed five rebounds and added four steals.
East's Deontay Scott had another monster game, recording a double-double with 19 points and 10 boards, Terrell McClain scored 18 points and Cotton added a game-high six assists.