Chaney students design future city
---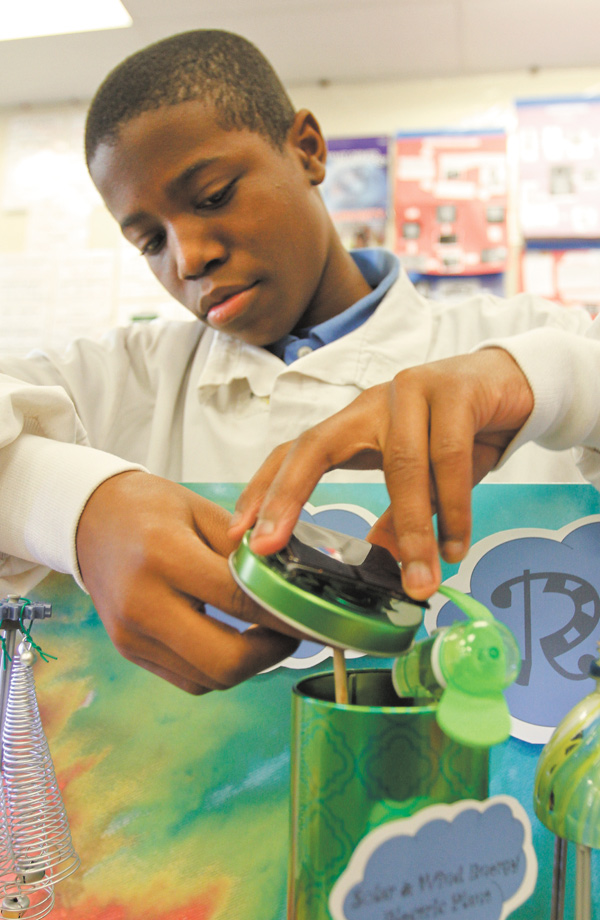 Photo
Jarelle Watkins, 14, also an eighth-grader in the program, tweaks the solar- and wind-energy plan in the city that he and his teammates designed and built for the competition.
By Denise Dick
Youngstown
Chaney campus eighth-graders Catera Clark, Taylor Clifton, Rayonna Booth and Jarelle Watkins demonstrated their engineering skills in the design and construction of futuristic and fictitious city Run-Off-Opolis.
The team of four 14-year-olds competes this weekend in the annual Future City Competition in Columbus. The contest is sponsored by the National Engineers Week Foundation.
Using the math, science and engineering skills honed in Sharon Ragan's Gateway to Technology course, the team first designed Run-Off-Opolis using SimCity 4 software.
"We had to make a city that could deal with the problem of water runoff," Catera said.
That's where the city's name came from.
In their design, the students had to take into account things such as traffic, budget, population, housing stock, commercial and industrial areas. It had to address water runoff caused by heavy rainfall and at the same time try to minimize pollution.
"If you did one wrong thing, it could blow the whole thing up and we'd have to start over," said Taylor.
Once they completed their computer design, they then had to construct a model of it using recycled materials.
Plastic Christmas- ornament holders, pill containers, drink bottles and restaurant take-out containers comprise the buildings of Run-Off- Opolis. Compact discs line the city's roadways, providing solar power.
A monorail of plastic tubing facilitates travel between office buildings. Because the contest awards points for moving parts, the business-park portion of the city spins, fueled by hydroelectric power from the water runoff, Rayonna explained.
Ragan, the students' teacher, said the project truly was a team effort.
"We each worked on the area that matched our skills," Jarelle said.
Students brainstormed ideas and then decided which were the best.
"There were no bad ideas," Ragan said.
The teammates say they learned a lot and enjoyed themselves while doing it.
Jarelle, Rayonna and Taylor all hope to be engineers. Jarelle plans to focus on robotics. Taylor is interested in a career as a software engineer, and Rayonna hasn't decided on a particular type of engineering.
Teams will be judged on their presentation, virtual city design, physical model, research essay and city narrative.
Saturday's contest is one of 37 regional competitions this month throughout the country. The winning team from each regional event will get a trip to Future City National Finals in Crystal City, Va., next month.
The competitions involve more than 35,000 students from 1,300 middle schools.
Pam Lubich, Science, Technology, Engineering and Mathematics coordinator at Chaney's STEM School, is more interested in the contest as an educational opportunity than she is in the team winning.
"A lot of learning went into this," she said.
More like this from vindy.com