Lakeview girls shut down Poland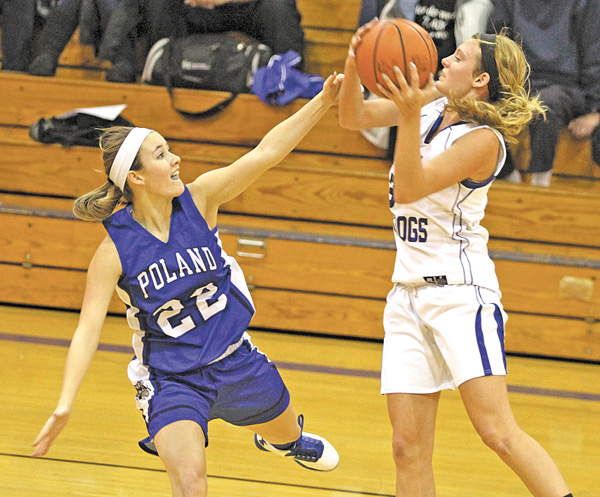 ---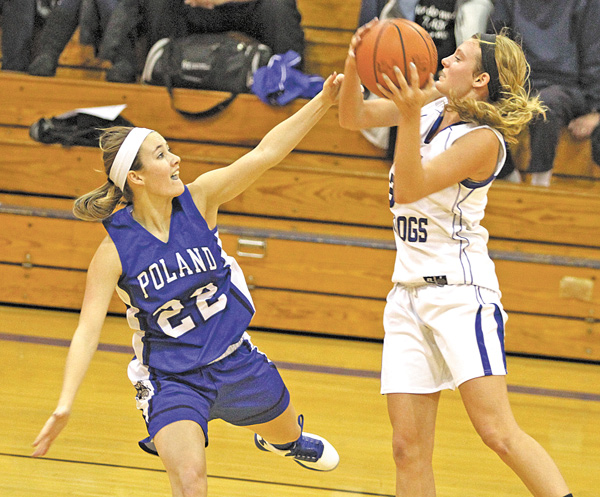 Photo
Lakeview's Abby Pavlik (3) looks to pass as Poland's Marissa Trevis (22) defends during the first half of a game Monday night. Lakeview used full-court pressure to pull away from a first-quarter tie for a 45-29 victory.
By Brandon Judeh
Cortland
With the score tied at 10 after the first quarter of the Lakeview and Poland girls basketball game Monday night, Abby Pavlik knew it was time to turn up the defensive intensity.
"Our defense came up big tonight, we pressed all four quarters," Pavlik said. "But that's the type of team we are, we create points off of turnovers."
What followed was an intense display of defense. The suffocating Lakeview press, which caused 25 turnovers, helped propel the host Bulldogs to an easy 45-29 win over Poland.
"We needed to do a better job looking up the court," Poland coach Nick Blanch said. "We had people in the middle and up the floor wide open. Their pressure got to us a little more than I expected it to tonight."
The visiting Bulldogs didn't score a second-quarter basket until the 3:40 mark as Lakeview (10-4) built a seven-point halftime lead.
"Poland is a very good team," said Lakeview's Allie Pavlik, Abby's sister. "We prepared for them all week. Our goal coming out was to pressure them and cause turnovers."
Lakeview didn't let up in the second half. Its relentless pressure pushed the lead to 12 after three quarters.
Poland (11-4) tried its hand at full-court pressure, but Lakeview's press-break play worked well.
"I hate halftime, because it gives the other team time to think about what's going on and adapt to it," Allie Pavlik said. "They came out and tried trapping us, but we handled it well and made smart decisions."
Allie Pavlik scored a game-high 22 points and had three steals.
Allie led the charge defensively with three steals. She caused several turnovers, but perhaps her biggest contribution was her passing. Allie had six assists, including four which led to baskets by her sister.
Abby says the sisters always know where each other are on the court.
"I feel like I know where she is going (on the court) and I know what she is thinking," Abby said. "I have seen her play and have played with her for many years and I can tell when she wants the ball, so we really connect on that level."
Marissa Naples added eight points and seven rebounds and Calli Schmitt had seven points and five boards.
Blanch there is plenty of basketball left to play.
"A team can sit and sulk about a loss like this, but it's not going to get you any better," he said. "We just need to learn from this and grow. We have a tough schedule coming up with Fitch, Howland and Canfield. Our girls are tough and I know they will rebound."
Poland's Kasie Serich scored 10 points and Aleah Hughes scored six and had a game-high nine rebounds.
More like this from vindy.com