Children learn the science of glue making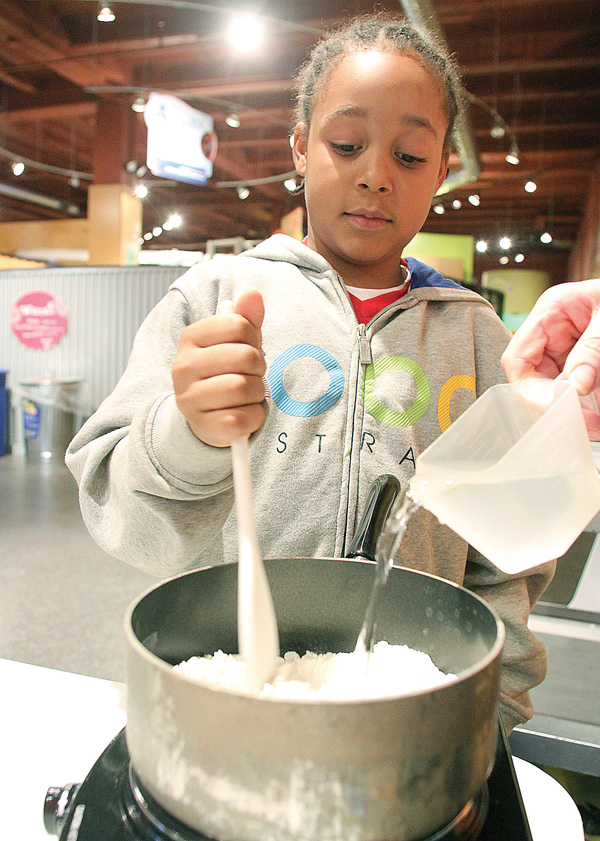 ---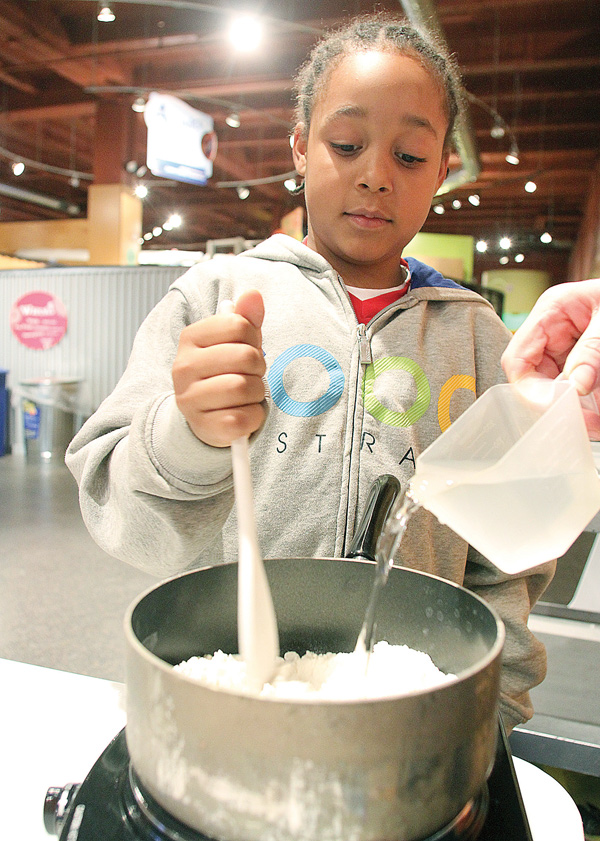 Photo
Conovas Crawford, 8, of Youngstown, mixes ingredients to make glue at OH WOW! The Roger & Gloria Jones Children's Center for Science & Technology in downtown Youngstown.
By Sean Barron
YOUNGSTOWN
When it comes to getting certain things done, you might say that Owen and Ethan Nelson stick it out together.
"I'm making a house," Ethan, 5, said excitedly, referring to a project he was wrapping up that was made possible courtesy of common glue.
Ethan and brother Owen, 2, were busily applying the material they had concocted that was the main element of a science project, simply called "Glue Making," they took part in recently at OH WOW! The Roger & Gloria Jones Children's Center for Science & Technology, 11 W. Federal St., downtown.
The two Boardman boys were among those who learned how glue is made, then used it to make art projects with toilet-paper rolls, egg cartons, colored craft sticks, buttons and foam, all of which were recycled materials.
Looking on and offering periodic encouragement was the boys' father, Scott Nelson.
"Did you know things you have at home can make glue?" asked Audra Carlson, the center's education manager who conducted the experiment.
With the help of the youngsters, Carlson mixed, heated and stirred in a small pan one cup of flour, 1.5 cups of water, one-third cup of sugar and a teaspoon of vinegar. The vinegar was to prevent germs from growing and to allow the material to keep longer, she noted.
When the glue was ready, Carlson poured the substance into small cups and let the children go to work.
Assisting Carlson was Vinnie R. Deem, who works in the center's facilities department.
Also lending a hand in the mix was 8-year-old Conovas Crawford of Youngstown, a Kirkmere Elementary School second-grader.
"I made a store, and I made a fireplace, and I made a bridge, and I had a trash can behind the bridge," Conovas, also known as "C.J.," said in explaining his creative handiwork with a little help from the glue.
Conovas, who came with his mother, Sonora Evans, added that he's a Dallas Cowboys fan and listed playing football and soccer as two of his favorite activities.
Carlson noted that the children's center is asking for donations of recyclable items for its programs, such as plastic cups, 2-liter bottles, cardboard boxes, paper- towel rolls, buttons and various crafts supplies.
Materials can be dropped off at the center from 10 a.m. to 6 p.m. Monday through Thursday, 10 a.m. to 4 p.m. Friday and Saturday and noon to 4 p.m. Sunday.
Those interested in making a contribution also can call the facility at 330-744-5914.
The next chemistry- related program is set for 11 a.m. to 1 p.m. Saturdayat OH WOW! Participants are asked to bring their own 2-liter bottles and plastic cups.