Sentencing postponed for accused Canfield pot grower
---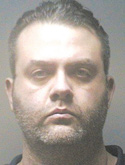 Photo
YOUNGSTOWN
The sentencing of a Mahoning Valley man accused of growing more than 300 marijuana plants in a Canfield house has been postponed.
Charles B. Muth, 41, of Canfield, was charged May 31 in federal court with conspiracy to manufacture marijuana and pleaded guilty June 20. His sentencing was set for Thursday before Judge Patricia A. Gaughan, but last week Muth's request to move the hearing was granted, and sentencing was set for March 21.
The drug charge came about during a Boardman police investigation into a December 2011 drive-by shooting in which Muth was the suspect.
Detectives searched several locations, including the 3,172-square-foot house at 9075 Briarwood Court in Canfield valued at more than $350,000, for the weapon used in the shooting.
Once inside the Briarwood Court residence, police found 335 marijuana plants in various stages of growth and notified the U.S. Drug Enforcement Administration.
Locally, Muth has an ethnic intimidation charge pending against him before Mahoning County Common Pleas Judge John M. Durkin. He'll be back in court Jan. 23 for plea negotiations, according to online records.
In this case, Muth is accused of harassing a Boardman man Dec. 25, 2011, with derogatory language and threatening to kill the man's family.
Three days after the repeated phone calls, a drive-by shooting was reported at the man's ex-wife's home on Jaguar Drive. The female homeowner, her 7-year-old daughter and a 21-year-old woman were present, but not injured, during the shooting, police said.
Muth also was charged in Mahoning County court with felony illegal possession of marijuana, but that case was dismissed without prejudice, records state.