Eastgate director to retire
Tweet
Published: Mon, January 14, 2013 @ 12:05 a.m.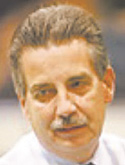 Photo
John R. Getchey, executive director, Eastgate Regional Council of Governments
Staff report
YOUNGSTOWN
John R. Getchey is retiring as executive director of Eastgate Regional Council of Governments after 37 years with the agency and serving as director for 24 years.
The Eastgate Regional Council of Governments, whose members include all political subdivisions in Ashtabula, Trumbull and Mahoning counties, is now seeking applicants to fill the executive director position.
Getchey notified the agency's finance/executive committee in September of his plans to retire. In October, Eastgate's general policy board acknowledged Getchey's retirement, effective Dec. 31. 2012, and approved a six-month contract with him through June 30.
Getchey said he's proud of all the projects the agency has undertaken during his tenure.
"We put together a lot of good infrastructure projects. We've expanded the staff, added programs and took on the Appalachian Regional Commission designation. We've had economic development and brought Ashtabula County back into the mix five or six years ago. We've come a long way," he said.
Eastgate is a multipurpose agency and serves as the Metropolitan Planning Organization and Area Wide Water Quality Planning Agency for Mahoning and Trumbull counties.
The agency also serves as the economic development district under the Economic Development Administration and the Local Development District under the Appalachian Regional Commission for all three counties. Additional program responsibilities include administration of the District 6 Public Works State Capital Improvement Program.
Getchey said the new executive director will have to know the programs and work with all of the agency's partners.
The executive director leads a staff of 16 and administers an annual budget of about $2 million. Eastgate's finance committee is still determining the salary and benefits that will be offered to a new executive director. At the time of his retirement, Getchey's annual salary was $120,000.
Potential applicants should visit the agency's website www.eastgatecog.org for a full job description and application instructions. Applications must be received by Feb. 8.