Austintown Relay for Life kicks off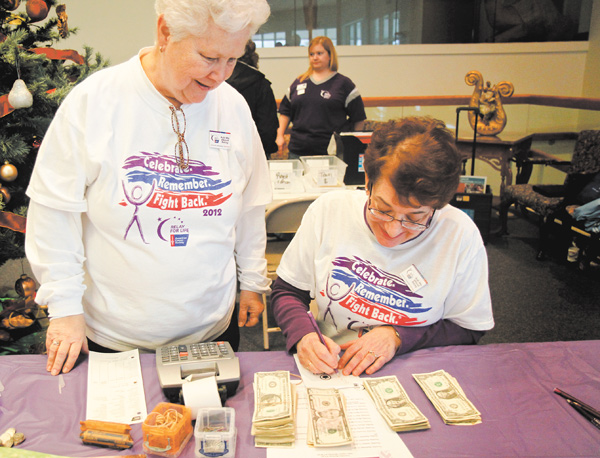 ---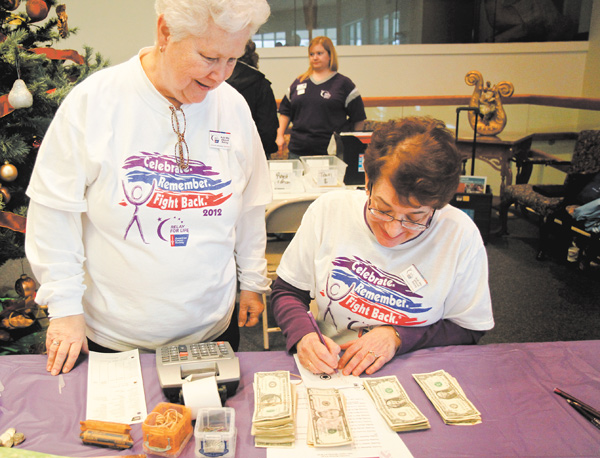 Photo
Bonnie Weaver, left, and Patti Griffin count donations at Sunday's Relay for Life kickoff event at Austintown Community Church.
AUSTINTOWN
Amy Hughes and Jenifer Pemberton both have their own reasons for co-chairing one of the region's fastest-growing Relay for Life events.
For Hughes, it was a grandmother who survived lung cancer, and for Pemberton, it was an aunt who long ago asked her to walk.
The American Cancer Society's Relay for Life events will take place across the country this year, but in Austintown, things are getting better with each passing year.
The relay, a 24-hour event that finds teams of 10-15 people camping out overnight for a community fundraising walk, will take place June 7 and 8 at Austintown Fitch High School.
But the fundraising and organizing get under way long before the actual walk. Hughes and Pemberton, who as co-chair- women facilitate every aspect of Austintown's Relay for Life, gathered with others in the community for its kickoff Sunday night.
"We call this a party with a purpose, and the kickoff gets everybody pumped up, allows us to pass out materials, pick team captains and go over fundraising goals," Pemberton said. "The 24-hour walk is meant to represent the life of a cancer patient, because cancer never sleeps."
More than anything, Relay for Life helps provide comfort and support to those who have faced cancer or who have lost a loved one to the disease.
In Austintown, the event has grown from registering just 15 teams in the past to 32 last year. Already, 16 teams are signed up, and the goal will be 35, Pemberton said.
In 2010, the group managed to raise $60,000. The next year, it surpassed its goal of $108,000, and at Sunday's kickoff party, Pemberton said they already were $2,000 above where they were last year at the same time, having raised $12,366 — on their way to this year's $125,000 goal.
The relay is the American Cancer Society's chief fundraising event. The proceeds go toward everything from cancer research and wellness programs, to supporting cancer patients in communities across the country and even college scholarships.
Hughes and Pemberton will meet with team members and volunteers four more times before the event takes place in June. Both said that 2013 could be a record for fundraising.
More like this from vindy.com