Bancrofts honored at family dinner for anniversary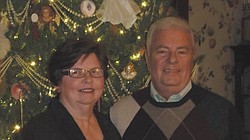 Photo
MR. AND MRS. WILLIAM BANCROFT
HUBBARD
Mr. and Mrs. William Bancroft of Hubbard celebrated their 50th wedding anniversary with a family dinner Dec. 27 in the Jefferson Davis Room at Tara — A Country Inn in Clark, Pa.
The former Sally Tregaskes and Mr. Bancroft were married June 23, 1962, at First United Presbyterian Church in Canfield.
Their children are William (Debbie) Bancroft and Michelle (Robert) Collins, all of Navarre, Fla. Six grandchildren complete the family.
Mrs. Bancroft is a homemaker and worked as a receptionist/secretary at Howell Industries in Masury and the Lyden Co. in Youngstown.
Mr. Bancroft retired from General Motors in Lordstown in 1999 after 33 years as a buyer in the purchasing department.
The couple are members of First Presbyterian Church in Hubbard.