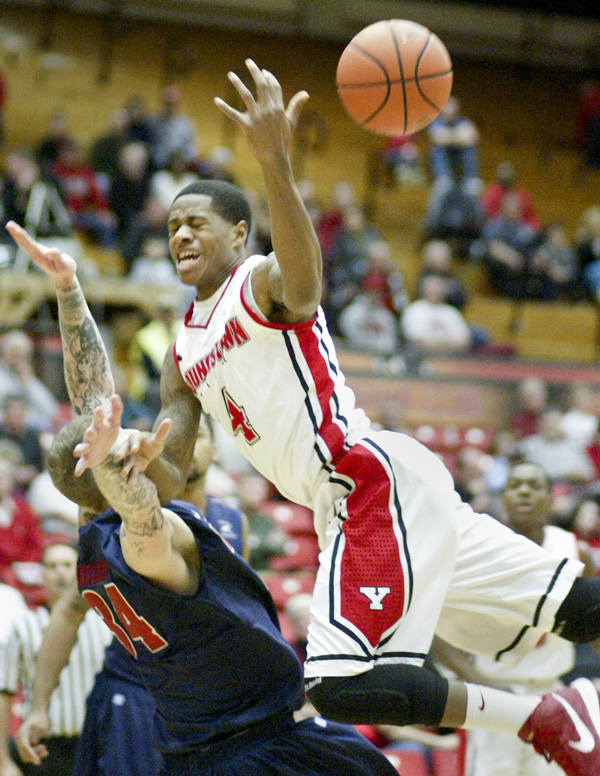 ---
YSU vs DETROIT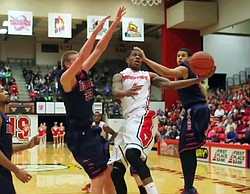 Video
YSU men were beaten 101-60 by Detroit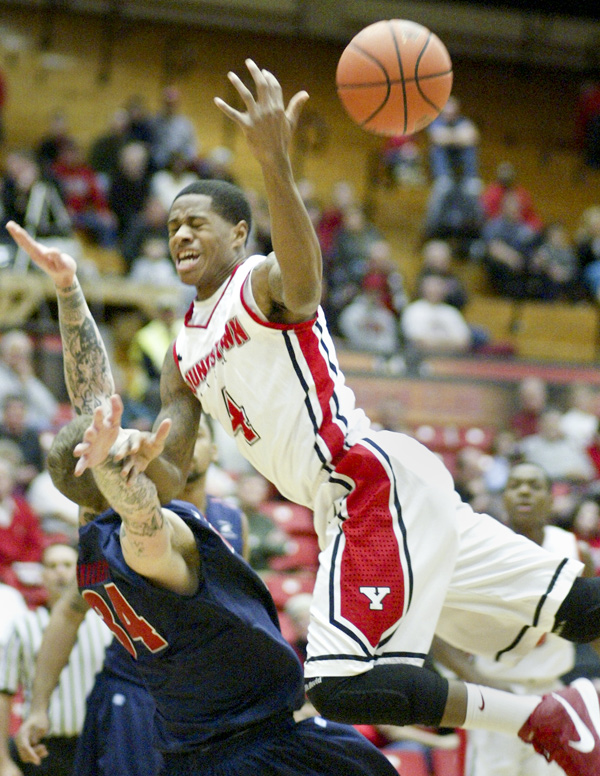 Photo
Youngstown State's Shawn Amiker (4) collides with Detroit's Nick Minnerath (34), who is charged with a foul, during the first half of Thursday's game at YSU's Beeghly Center. The Titans routed the Penguins, 101-60.
Detroit fries Youngstown State's bacon
By Joe Scalzo
YOUNGSTOWN
Detroit was swaggering, Youngstown State was staggering and if you had asked one of the Beeghly Center fans if the Penguins could rally from a 21-point halftime deficit, he would have said, "When pigs fly."
Turns out, that didn't help either.
Bottom Dollar's flying pig made an appearance on Thursday night but YSU's men's basketball team didn't as the Titans dominated from start to finish en route to a 101-60 Horizon League victory. Afterward, Detroit's fifth-year coach Ray McCallum said it was "the best we've probably played since I've been here."
The Penguins gave up 100 points for the first time in five years and suffered their worst conference loss since falling to Milwaukee by 41 on Feb. 9, 2006.
"Horrible effort by us," said YSU coach Jerry Slocum. "Played very, very, very poorly. That might be the understatement of the year.
"We got rocked tonight."
The game's final minutes devolved into the second quarter of an NBA All-Star game, with Detroit attempting three 3s and multiple dunks. With less than five seconds left, a visibly peeved Slocum voiced his displeasure to McCallum in the closing seconds and was hit with a technical.
The Titans' two free throws pushed them past the century mark.
When asked about it afterward, Slocum paused for a few seconds, then said, "I'll hold on that answer. I mean, you can figure it out, you know what I'm saying? It doesn't do me any good to say what you saw during the course of that ballgame in the last five to seven minutes."
McCallum seemed surprised by the incident, telling two reporters, "You saw me go to my bench, right?" He then looked at two nearby police officers and joked, "You guys have my back, right?"
Youngstown State (9-7, 1-2 Horizon) started the game with three turnovers, three missed shots and a missed free throw and took its only lead, 14-13, with 10 minutes left in the first half.
The Titans (11-5, 3-0) responded with a 26-2 run.
"I'll be honest with you guys — we haven't had a meaningful home game since Kent [on Nov. 28] and we have really learned how to play well on the road," Slocum said. "We're not ready to play well at home.
"I take responsibility for that."
Sophomore guard D.J. Cole posted career-highs in points (16) and minutes (34) for the Penguins, while senior Damian Eargle added 14 points and seven rebounds. All-conference guard Kendrick Perry, however, picked up three first-half fouls and finished with just nine points (7 1/2 below his average) and four turnovers.
Jason Calliste led Detroit with 27 points, Ray McCallum added 19 and Evan Bruinsma scored 17 points off the bench, which has been Detroit's Achilles heel.
"We put 40 [minutes] together tonight," the elder McCallum said. "I think it was a good mindset by us. We have a lot of respect for Youngstown and what Jerry's doing and how he's improved the program. They're a good team. They're still one of the top teams in the league."
More like this from vindy.com