SENIOR SALUTE - BAND EDITION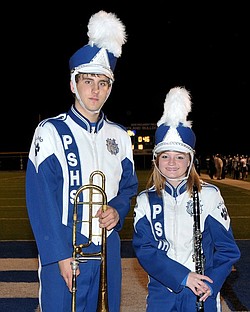 Photo
GARY HADDLE (left) and KENDAL GINNETTI.
Names: GARY HADDLE and KENDAL GINNETTI
Instruments: Gary: Trombone; Kendal: Clarinet
Q. When did you start playing your instrument?
A. Gary: I began playing the trombone when I was in fourth grade.
Kendal: I began playing the clarinet in fifth grade.
Q. Best memory of being in band/marching band?
A. Gary: My best memory of marching band by far is when I played at the BCS National Championship Game in New Orleans. I also attended trips to both Disney World and several small performances with the Jazz Band. I have also participated in Solo and Ensemble competitions, both individually and as an ensemble received a "1" rating in both.
Kendal: I loved Massillon Band Nights and going to Disney World with the marching band in my freshman year.
Q. Why is music important to you?
A. Gary: Music is important to me because it lets people express themselves and brings people together. I would recommend that students join the band because not only does it give you a chance to meet new friends, but gives you an experience and knowledge you apply to other things or experiences in your life.
Kendal: I believe music is important because it helps you escape from a bad day. I think it is amazing to be able to read music and it is wonderful to listen to.
Q. What college do you hope to attend/intended major?
A. Gary: I plan on attending Ohio State University to major in Math Education, with a pre-med intent and a possible minor in music.
Kendal: My plan is to attend Youngstown State University and major in Nursing.