Poland wrestlers sweep duals on Senior Night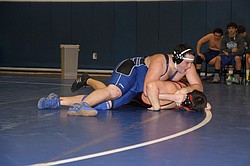 Photo
Poland senior Jason Velasquez earned a 7-0 decision over Girard's Ben Norman in a key victory.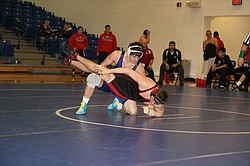 Photo
Poland's Mike Audi (back) defeated Girard's Ryan Leasure by pin in the 170-pound match.
The Poland varsity wrestling team competed in back-to-back triangular matches Jan. 3-4, starting with Senior Night at the Poland Fieldhouse.
Seniors Tad Duran, Jordan Ziegler and Jason Velasquez helped the Bulldogs defeat Jefferson 61-12 and Girard 37-30. Poland overcame a 24-13 deficit after matches in the lighter weight classes against Girard, to earn the victory. The momentum started to change when freshman Anthony Audi defeated Girard junior James Cupan 3-2 in the 160-pound bout.
Mike Audi, Trey Ellis and Abe Kassem reeled off three straight pins Jason Velasquez defeated Girard's Ben Norman 7-0 to seal the win.
Poland had no trouble with Jefferson, winning 11 of the 14 matches, including six by pin.
On Jan. 4, Poland traveled to Austintown Fitch to defeat Midpark 64-9 and Berea 57-18 and advance to 13-1 in dual meets this season.
Dante Ginnetti, Bruno Spottleson, Anthony Audi, Mike Audi and Abe Kassem won all four of their matches and Mike Audi and Kassem registered four pins each in the two days.
More like this from vindy.com