Phantoms in key matchup against Steel tonight
Face Off: Cam Brown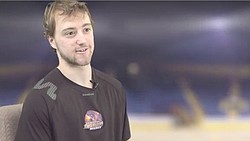 Video
Cam Brown, #8 Center for The Youngstown Phantoms, talks about his transition to the team this year and what he expects of this weeks games.
Face Off: Ryan Lowney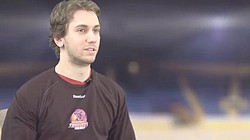 Video
Ryan Lowney, #13 defensemen for The Youngstown Phantom, discusses the team this season and his expectations for the games this weekend.
By Tom Williams
Youngstown
Like most coaches, Youngstown Phantoms head coach Anthony Noreen prefers to take games one at a time.
The Phantoms' second-year coach usually doesn't get fired up over any one of the 64 games on the schedule.
Not today.
"It's as big of a game as we have been a part of all year," said Noreen of tonight's game in Chicago against the fifth-place Steel (13-14-3, 29 points).
The seventh-place Phantoms (14-16-0, 28 points) are in a four-team chase for the fourth and final playoff spot in the Eastern Conference. Youngstown, Chicago and Indiana (13-19-3, 29 points) are chasing fourth-place Cedar Rapids (14-14-4, 32 points).
Saturday, the Phantoms will hit the halfway mark of the season in Nebraska when they take on the Lincoln Stars (18-9-3, 39 points, fourth place in the Western Conference).
"They're good, especially at home," Noreen said of the Stars.
Defenseman Ryan Lowney, who scored two goals in last Saturday's 4-1 win over the Muskegon Lumberjacks at the Covelli Centre, said playing in Lincoln is fun because the arena is usually full.
"Lincoln has a good arena, crazy atmosphere — it's a bit more intense," the second-year defenseman said. "They're a really good team as well, so it will be fun to play against them. They pack the arena a lot more so it's a lot louder."
Forward Cam Brown, who was traded to the Phantoms on Thanksgiving from the Sioux City Musketeers, will be making his debut in Lincoln.
"I heard the ceiling is real low and some say you're going to get beer spilled on you," Brown said. "That's cool — I think you get fired up for a game like that."
First, there's the game against the Steel.
"A big part of what we are going to be able to accomplish is what we do against Chicago," Noreen said. "We have seven games left against them. If we can take care of business against them, it's really going to help us down the stretch."
Although the Phantoms have a lot of hockey left to play (34 games remain in the regular season), they can't afford to fall any further behind in the standings. Unlike last season when six teams per conference qualified for the playoffs, just four will be moving on this spring.
Brown has found positives from the trade.
"It was weird at first," Brown said. "But as soon as I got here, everyone took me in. It was nice.
"This team wins a lot more games than we did in Sioux City."
The Musketeers (6-19-7, 19 points) are the last-place team in the Western Conference.
Because Youngstown is the eastern-most city in the USHL, getting used to much longer bus rides has been a challenge for Brown.
"The first one [to Dubuque, Iowa] was a little weird, but the second one I think I got adjusted," Brown said.
Noreen said the Phantoms are in their best shape health-wise in 12 months.
"This is about as healthy as we've been all [season]," Noreen said. "Last year in the first half of the season, we really didn't deal with [many] injuries.
"The last quarter of the season was really where we dealt with a lot of injuries and especially sickness. This year, it was early on. It was about the third week of the regular season that we lost our first guy to injury," said Noreen, referring to defenseman Dan Renouf and forwards Alfred Larsson and John Padulo,
"Right now, knock on wood, we're really pretty healthy."
More like this from vindy.com