Library hosts first story time of new year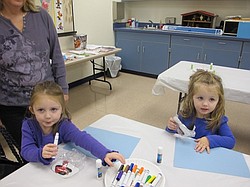 Photo
Neighbors | Natalie Scott.Sisters Gianna (left) and Olivia Thompson enjoyed the coloring craft where they could make and decorate a snowman at the Boardman library Jan. 2.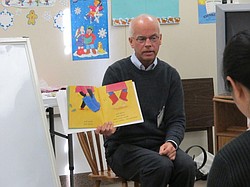 Photo
Neighbors | Natalie Scott.Librarian John Yingling read Under My Hood Is a Hat, a story about all of the clothes that a child puts on to go outside and play in the snow, at the Boardman library Jan. 2.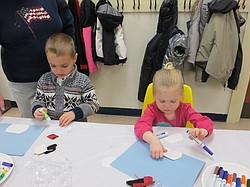 Photo
Neighbors | Natalie Scott.Bobby (left) and Jane Cisek worked side-by-side to put together their snowman crafts at the Boardman library Jan. 2.
By NATALIE SCOTT
The Boardman library hosted the first Baby Brilliant: Tales for 2's and 3's of the new year Jan. 2. The story time was led by librarian John Yingling and focused on a snow theme and told stories about winter.
First Yingling read the books "Under My Hood is a Hat, Snow?" which was about all of the activities there are to do in the snow, and "In the Snow," about the sorts of animals that live in the snow and different people who mold their lives around the snow.
He then told the children a story using hand motions and making a pretend snowman. He called the snowman "Frosty," after the popular character, and sang a song where he dressed Frosty.
The next story Yingling told was about five snowmen in hats. The sun came out and melted the snowmen one-by-one. Yingling used this activity to encourage counting skills in the group and asked the children to participate in counting with him whenever he could.
Another activity that Yingling had the children do was aimed at getting them on their feet so that they could expend some energy and them calmly focus for other activities. Yingling gave each child a snowflake and sang a song where the children could dance with the snowflakes and they ended up on their shoes.
The final activity for the story time was a craft where children were given a piece of paper and asked to draw a snowman. After the snowman was complete, the children could draw any type of background they wanted.
More like this from vindy.com