Bishop's double-double powers Girard girls over LaBrae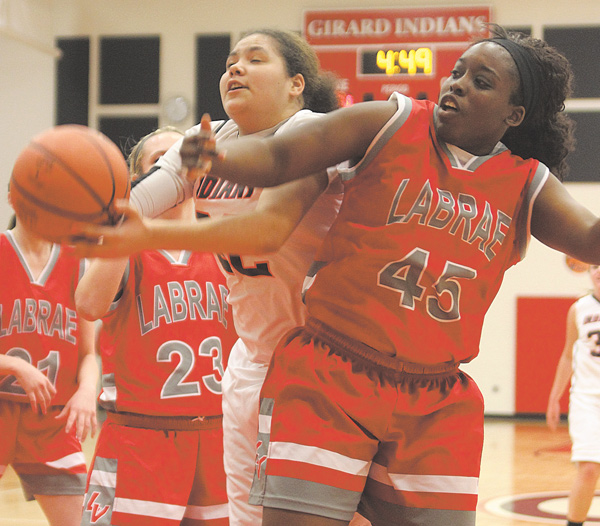 ---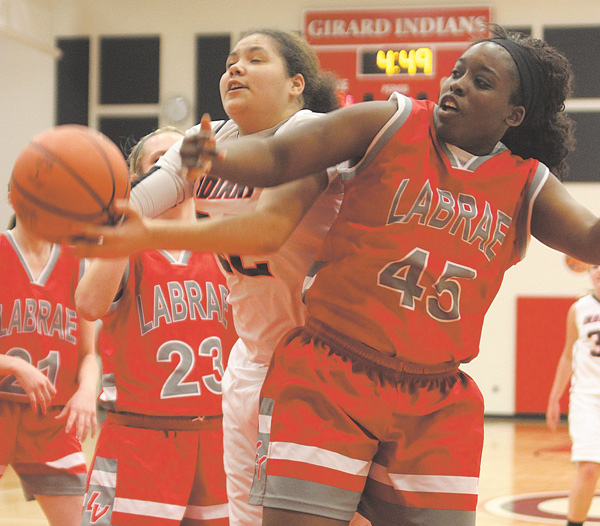 Photo
Bree Bishop (32) of Girard goes to the hoop against LaBrae's Ashlee Stubbs (45) during their basketball game Thursday in Girard. The Indians downed the Vikings, 52-34, with Bishop scoring a game-high 16 points and grabbing 16 of the team's 31 rebounds.
GIRARD
The Girard High girls basketball team made five 3-pointers in Thursday's 52-34 win over LaBrae.
Miranda Boyle and Lindsay Durkin each made two, while Hayley Spalla sunk one.
Junior Bree Bishop isn't afraid to try launch one from deep, either. But she knows where her game is most useful.
"I've tried to shoot up a few for three," she said, "but I work a lot better in the paint."
She grabbed 16 of Girard's 31 rebounds and added a game-high 16 points.
"She always does a nice job underneath," said LaBrae coach Lisa Aldridge. "We tried to stop her by staying behind her. She's good and their whole team is good."
The Indians (8-4, 4-2 All-American Conference, National Division) are coming off back-to-back wins over top league teams Lakeview and Struthers.
Despite 15 turnovers and a slow start, they held the Vikings (6-6, 3-4) to just four points in the second quarter.
Girard took a 10-point lead at the 3:10 mark of the quarter when Spalla drilled her first points — a triple from the top of the arc.
A Boyle 3-pointer brought the lead to 30-15 with under a minute left until halftime and the Indians kept a double digit advantage for the remainder.
"We work well as a team," Bishop said. "I feel pretty good about the team right now. We're going to try to continue it and make it last longer."
Bishop had a season-high 23 rebounds in a game, last week, and coach Andy Saxon said she averages 20 per outing.
"She's our force inside," he said. "She can rebound, she can jump, she has such soft hands. We can get it down to her and she makes everyone around her better."
Boyle finished with 10 points and five rebounds, while Spalla added nine points with three steals and four assists.
Lindsay Durkin had eight points.
For LaBrae, Maddie Kiser led with nine points, Somer McCoy had seven with six rebounds.
Maddie Kiser came off the bench in the second half and scored six points — all in the fourth quarter.
"We're a better team than we showed tonight," Aldridge said, citing the second quarter downfall as a major disappointment. "We might not win, but we'd make it a closer game if it wasn't for that period.
"Our girls need the confidence like they have. Hopefully we'll get there."
As a team, the Indians forced 13 steals.
"We didn't come out with as much intensity as we had last game," Bishop said. "The second half was a lot better."
Saxon added, "I fired them up at halftime. I liked the way we turned around the offense."