Fitch girls basketball leads camp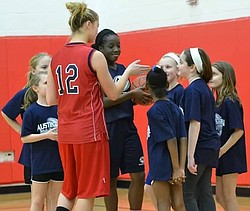 Photo
Neighbors | Submitted.The blue team practiced playing basketball at the Austintown Fitch youth basketball camp.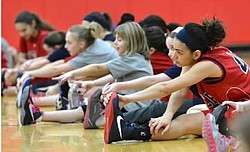 Photo
Neighbors | Submitted.The girls stretched before playing basketball at the Austintown Fitch youth girls camp.
Austintown Fitch girls basketball players are in the process of conducting an eight-week youth camp and league for young girls in grades three through six.
It consists of four sessions where girls learn basketball fundamentals and four sessions where they are split into teams and play basketball. The youth teams are coached by one varsity and one junior varsity player. The girls learn the importance of defense and offensive fundamentals while having fun and interacting with high school players.
The last session is Jan. 13 in the AMS gymnasium from 5 to 6:30 p.m. The conclusion of the program will be a spaghetti dinner fundraiser on Jan. 20 from noon until 4 p.m. at Austintown Middle School, benefiting the entire girls program. The cost of the dinner is $7 for adults and $4 for children under 12.
More like this from vindy.com