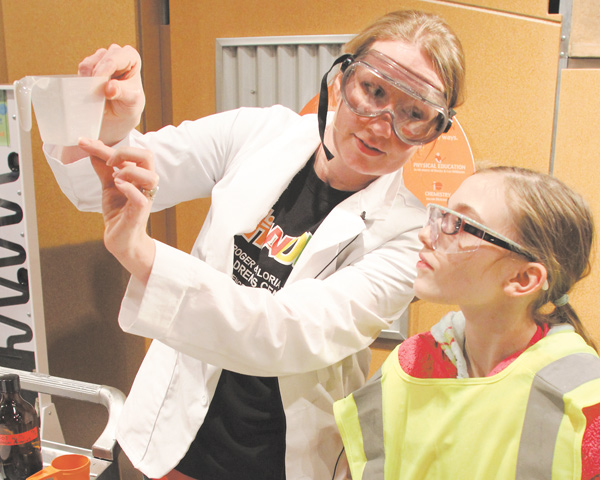 ---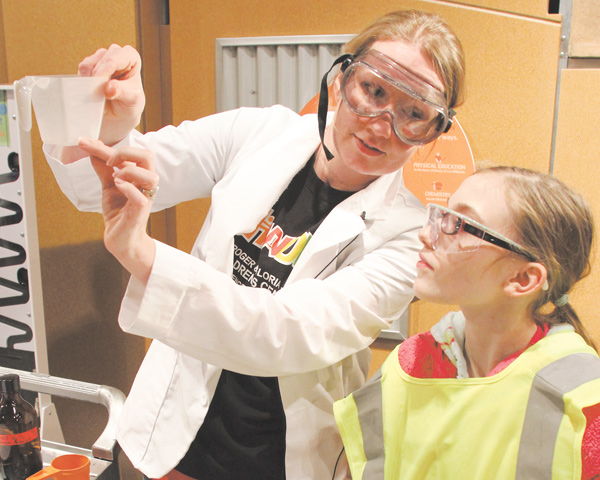 Photo
Holly Eberly, 11, right, a member of Girl Scout Troop 80420, of Canfield, watches Audra Carlson, OH WOW! education manager, during a science program at OH WOW! The Roger & Gloria Jones Children's Center for Science & Technology in downtown Youngstown.
By Sean Barron
YOUNGSTOWN
Several simultaneous eruptions took place in downtown Youngstown recently, but don't rush to make an appointment with your ear doctor if you failed to hear them.
"It was pretty fun when it popped out of the little box," 10-year-old Ella Mitchell explained about the result of a small science project she took part in. "It shot out of the bottle when you least expected it."
Ella was referring to an eruption of colored oxygen-rich foam produced when she mixed a small amount of water, food coloring, a beauty product, powdered yeast and dish soap during a 45-minute scientific experiment Tuesday at OH WOW! The Roger & Gloria Jones Children's Center for Science & Technology, 11 W. Federal St.
The Canfield Village Middle School student was one of eight members of Canfield-based Girl Scout Troop 80420 who participated in the program, titled "Elephant Toothpaste" because the foamy substance resembled a large stream of toothpaste.
For a few minutes, such material continuously spewed from and enveloped three soda bottles in aluminum trays after the girls had conducted their versions of the experiment.
The colorful experience marked Ella's first visit to the children's center, she explained.
"It's like a mini-COSI," she said of the facility, referring to the Center of Science and Industry in Columbus, which she has visited two or three times.
Ella, who added that she hopes to be an artist or a veterinarian, said she's been a Girl Scout about five years.
"I was surprised it would come out like gushing out of the bottle," said 10-year-old Abby Palmer, a Canfield Middle fifth-grader, who also loved her first visit to OH WOW!
Abby, a fellow Troop 80420 member who came with her mother, Vicki Palmer, also has five years of Scouting under her belt.
Conducting the experiment was Audra Carlson, the children's center's education manager.
"It's called a hydrothermic reaction. That's the way it releases energy in the form of heat," Carlson said in laying out the scientific explanation for the phenomena.
A similar reaction results from the right combination of hydrogen peroxide, sodium iodide, potassium iodide and other materials, but the girls conducted a modified version for safety reasons, Carlson noted.
Perhaps one of the only aspects of the experiment that failed to surprise the girls was the mixture's scent.
"It smells kind of like bread or cereal, doesn't it?" Carlson asked.