Nurses dispensed over 350 flu vaccines during three clinics this week.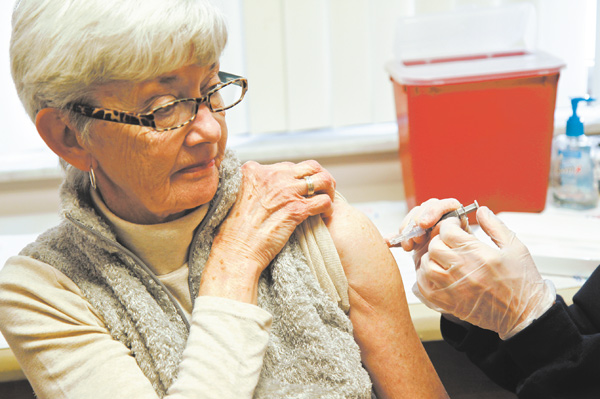 ---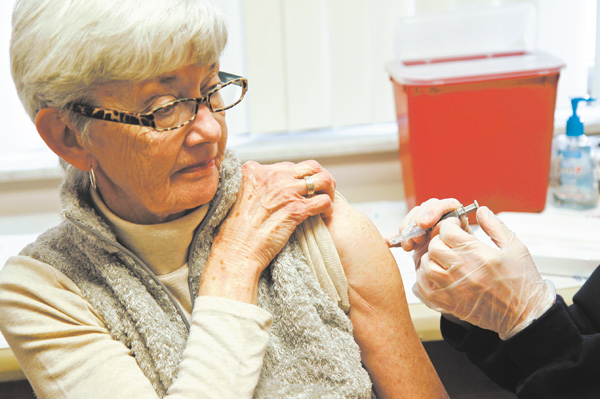 Photo
Jeanie Price of Austintown got her influenza shot Thursday at the Mahoning County health department on Westchester Drive, Austintown. Nurses administered about 350 doses of vaccine during clinics Tuesday , Wednesday and Thursday.
YOUNGSTOWN
Seeing too many friends sick with the flu brought Jeanie Price to the Mahoning County health department on Thursday for a flu shot.
Price, of Austintown, said she hasn't gotten the vaccine for a couple of years and most of her family members do not get flu shots. But when a friend was sick with the flu for two or three weeks, "I decided I'd better come," said Price, who got the high-dose vaccine especially made for seniors.
LuAnn Bokros of Columbiana had an appointment with the family pediatrician to get flu shots for her daughters, Abbey, 11, and Madi, 14, but the doctor ran out of vaccine before the appointment.
"I'm hearing about people dying, so I wanted to get them the shot," said Bokrus, a computed tomography (CT) scan technician at ValleyCare Northside Medical Center, who gets her own flu shot at work.
Mahoning County is a snapshot of the big picture of what is happening across Ohio and the nation: The flu, both the true influenza and the gastrointestinal virus that has flulike symptoms, are here in force and affecting people of all ages.
The Ohio Department of Health reported 368 confirmed influenza-associated hospitalizations in the state during the week ending Jan. 4; 1,123 hospitalizations from Oct. 1, 2012, the beginning of the flu season, through Dec. 31, 2012. The state health department weekly report, due out today, is expected to reflect the continued spread and severity of the flu circulating through the state.
The U.S. Centers for Disease Control and Prevention reported heavy flu activity in more than 40 states.
The Mahoning County District Board of Health provided 1,314 flu vaccine doses during the entire flu season from September 2011 to June 2012, compared with 1,716 vaccine doses from September 2012 through Jan. 9, 2013, officials said.
During three clinics this week, county health department nurses dispensed 350-plus doses of the flu vaccine.
Hospital emergency departments are being overwhelmed with people with flulike symptoms, added to the usual emergency department traffic, and hospital beds are full.
"I've been doing infection prevention for quite a while, but the high number of admissions now are unprecedented. Our patient census has increased because of the flu," said Renee Rush, infection preventionist for ValleyCare Northside Medical Center.
"The flu seems to be hitting people harder this season. We don't usually see such a high rate of hospitalizations; but the patients coming in often have other medical conditions with the flu on top," Rush said.
Rush said Northside has posted signs asking visitors who are sick not to visit patients and take the chance of spreading the disease to people who already are sick. "We do need to care for our loved ones, but if they are sick, don't visit," she urged.
Rush said it is not too late to get the flu vaccine, though she noted it takes two weeks after receiving the vaccine to develop full immunity.
To prevent the spread of the flu and other infectious diseases, she recommends frequent hand washing, not touching the face and eyes and nose with hands, and to use good respiratory hygiene by coughing and sneezing into the elbow, not the hands.
More like this from vindy.com