Man to spend seven years in prison for shooting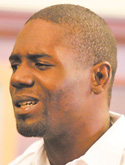 ---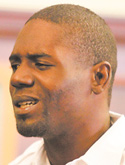 Photo
Man to spend seven years in prison for shooting
YOUNGSTOWN
A 28-year-old city man will spend the next seven years in prison for shooting another man in a Youngstown housing development in 2011.
The shooting victim was saved by a bulletproof vest he was wearing at the time of the shooting. He is currently being held in the Mahoning County jail on a weapons charge separate from the incident that almost took his life.
Darius Easterly, 28, of Covington Street, appeared for sentencing Thursday before Judge James C. Evans of Mahoning County Common Pleas Court on charges of felonious assault, illegal possession of a gun, trafficking in heroin and receiving stolen property. He pleaded guilty to the charges in a plea agreement with prosecutors last year.
Easterly shot 22-year-old Clifford Cross four times in a North Side housing development. Two of the bullets lodged in a bulletproof vest Cross had been wearing, and the other two bullets hit his upper body. Cross recovered from the bullet wounds and is facing his own legal troubles.
Cross was not in court for the sentencing, but his mother and brother did attend the hearing. They chose not to make a statement.
Jennifer McLaughlin, an assistant county prosecutor, said Easterly did accept responsibility and the prosecutor's office did enter into the plea agreement, but the seven-year prison recommendation is appropriate based on the nature of the crime and Easterly's criminal history.
"In this case, there was great harm to this victim. He was shot four times but was wearing a vest. ... He was certainly injured in this matter. Jail time is appropriate," she said.
McLaughlin reminded the court that Easterly has an extensive criminal history with charges throughout his adult life and some serious charges, including aggravated robbery, as a juvenile.
Easterly's criminal record includes arrests for assault, carrying concealed weapons, aggravated robbery, possession of drugs, driving under suspension, receiving stolen property, felonious assault and criminal trespass.
Attorney Ronald Yarwood, representing Easterly, said he has seen a change in his client since the 2011 shooting and believes he sincerely wants to change the course of his life.
"I have been doing this for 15 years. ... Every once in a while, you meet a person like Darius. He came into my office, didn't blame anyone else and sincerely said he wants to turn his life around," said Yarwood. "This has gotten his attention."
Easterly told the court that the notion of leaving his pregnant girlfriend and 1-year-old child to spend time in prison is one of the reasons for his desire to change.
"I have been in a lot of trouble, but this case woke me up. I have a 1-year-old and my girl is pregnant now, and to have to leave them really woke me up," he said. "I look at it like this is God sending me to do this time."
Before handing down a prison sentence, Judge Evans said Easterly's record is shocking.
"The record is horrendous for a man of your age," he said. "It is unbelievable that you would have so much at this age."
Judge Evans followed the recommendation from the prosecutor's office, sentencing Easterly to a total of seven years in prison on the charges.