Area children bounce with Santa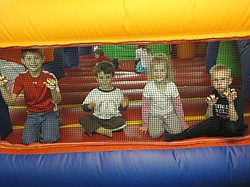 Photo
Neighbors | Natalie Scott.Nick Tibolla (left), Raiden Rossi, Sydney Pavelko, and Brock Pavelko (right) played together on a bounce-around at the Austintown Bounce Santa Lunch Dec. 22.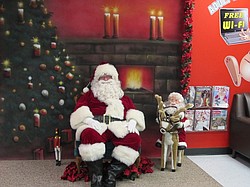 Photo
Neighbors | Natalie Scott.Santa Claus came to the Austintown bounce for pictures and to talk to children at the Santa lunch Dec. 22.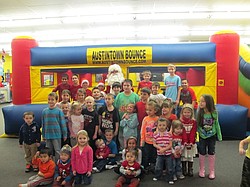 Photo
Neighbors | Natalie Scott.Children who attended the Santa Lunch at Austintown Bounce Dec. 22 crowded around Santa Clause for a picture.
By NATALIE SCOTT nscott@vindy.com
Austintown Bounce, located at 4317 Kirk Road in Austintown, hosted its fourth annual Santa lunch event Dec. 22.
"We have been preparing for this event for a while," said Bruce Shepas, co-owner of Austintown Bounce. "We expect close to 100 children to attend the lunch throughout the day."
Families had the opportunity to bounce and play for hours at the lunch with other families throughout the community. Santa Claus came for photos and to listen to Christmas lists. The Santa lunch was filled with different kinds of entertainment. Some families simply ate the food offered at the Bounce.
"This is our first year coming to this event and my first thought was 'Oh my goodness, look at all these kids,'" said Jo Hines, who brought her family to take part in the Santa lunch. "The youngest of the children I brought with me today is 2 and the oldest is 19 and they all love it. At one time or another, they will all end up bouncing in there. We will probably be attending next year, as well."
Austintown Bounce offers many different events throughout the year, including birthday parties, and opens early whenever local schools are closed. For more information, visit www.austintownbounce.com.
More like this from vindy.com