Woman sentenced in accident that killed 32-year-old father of two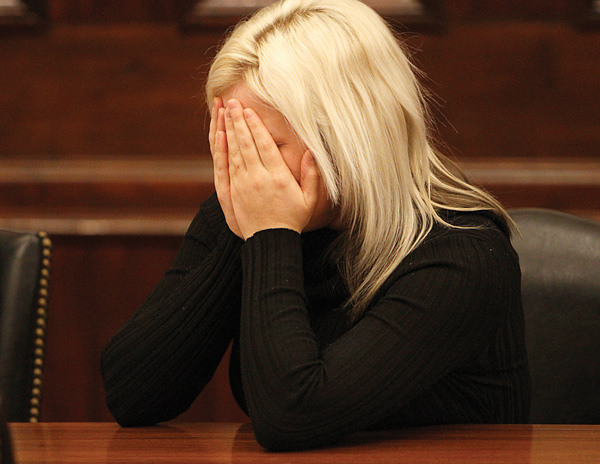 ---

Photo
Michele Green, 22, of Youngstown sobs as she listens to a victim-impact statement in common pleas court. She pleaded guilty to attempted aggravated vehicular homicide.
Woman sentenced in accident that killed 32-year-old father of two.
YOUNGSTOWN
The wife and mother of Matthew Clinkscale wanted to see the woman responsible for his death in a motor vehicle accident spend time in jail, and a Mahoning County Common Pleas Court judge granted that wish.
Michele Green, 22, of Mathews Road, pleaded guilty to attempted aggravated vehicular homicide in the July 2012 accident that killed 32-year-old Clinkscale. The accident occurred on Middletown Road in Springfield Township. Green initially was charged with aggravated vehicular homicide but pleaded to the lesser charge in an agreement with prosecutors.
Green could have been sentenced to as much as 18 months in prison on the lesser charge. Judge R. Scott Krichbaum did not hand down the maximum sentence, but he did order her to serve five years' probation with 90 days of that time in the county jail.
"I can't see the defendant walking away from what happened with simply probation," Judge Krichbaum said just before pronouncing the sentence.
Prosecutors recommended a sentence of probation in exchange for Green's guilty plea, but members of the Clinkscale family asked the court to send Green to jail.
Theresa Clinkscale, Matthew's wife, said she is still traumatized by the accident and fearful of driving. She said she still cries every night and is seeking counseling.
"Miss Green needs to be punished for what she has done. I believe she should serve jail time. I ask that the court punish Miss Clinkscale to the fullest extent of the law," said Theresa Clinkscale.
If Green violates any portion of her probation she will be sent to prison for 18 months.
Dawn Cantalamessa, an assistant county prosecutor, said the prosecutor's office reached the plea agreement because Green was not impaired, had no prior record, and there would be an issue proving she was reckless. She said the prosecutor's office has no issue with the judge's adding the 90-day sentence to the recommendation.
"I think the jail time was appropriate. She deserved something, and I believe it made the victim's family feel better," she said.
Green sat at a nearby table in tears as Theresa Clinkscale told the court how hard life for her and her two sons has been since the death of her husband of six years.
"The death of my husband has greatly affected my life. ... Not only did I lose my husband but the love of my life and father of my children," she said. "It breaks my heart to have to tell my sons that their dad is in heaven and never coming home again."
Cathy Clinkscale, Matthew's mother, told the court every event from church to holidays and family vacations is a painful reminder of the accident that killed her son.
"The pain of burying a child is something no parent should have to face," she said.
Atty. John B. Juhasz, representing Green, said his client has been remorseful and constantly concerned about the victim's family. He said she took her eyes off the road for a second to check on her child when the accident took place.
"What we have here is a young woman who was for a moment distracted, not impaired, and then Mr. Clinkscale is dead," Juhasz said.
Green apologized to the Clinkscale family before her sentencing, saying she has thought of the family often over the holidays. "I really do want to say I am so sorry to the Clinkscale family. If I could take it back I would," she said.
More like this from vindy.com