---
Thursday, January 10, 2013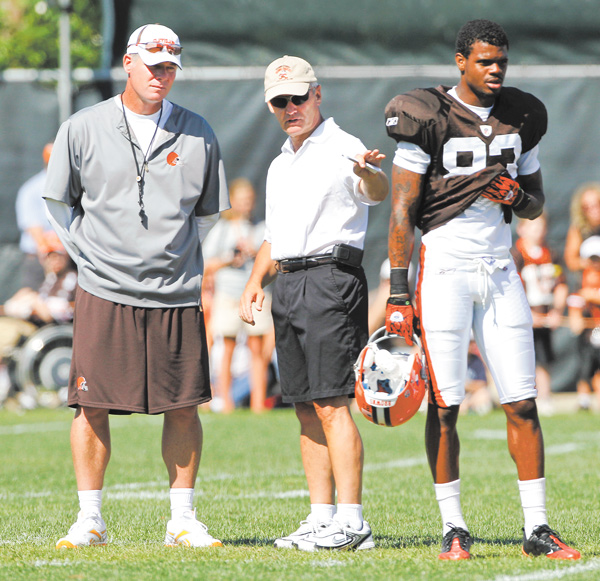 Photo
Former Ohio State head football coach Jim Tressel talks with then Cleveland Browns coach Pat Shurmur during training camp. At this point, Tressel's name has not officially come up as a candidate to replace the fired Shurmer.
There is something to be said for following the Cleveland Browns' coaching search from my perch on Front Street, rather than on the front line.
I'm glad I don't have to cover this search minute-by-minute. These things — especially when the Browns are involved — tend to drag on and on.
I'm also glad I don't have to decide who will replace the fired Pat Shurmur. It's been said before, but there is a palpable sense that new owner Jimmy Haslam and CEO Joe Banner had better get this one right. Give me a Friday or Saturday night deadline to meet over that kind of pressure any day.
It's been a long time since the Browns got a head coaching hire right.
The Pittsburgh Steelers have had three coaches since 1969 — Chuck Noll, Bill Cowher and Mike Tomlin. The Browns have had — counting interim guys — 15 coaches during that period.
Aside from Paul Brown (1946-62) and Blanton Collier (1963-70), only Sam Rutigliano (1978-84) coached the Browns longer than the six seasons Tomlin has been in Pittsburgh.
Unless you count Bill Belichick, who didn't become a winning coach until the New England Patriots drafted Tom Brady, the Browns haven't made a good coaching hire since Marty Schottenheimer replaced Rutigliano in 1984.
Depending on the source, the Browns' top three choices in the current search were Chip Kelly, Bill O'Brien and Doug Marrone. Maybe Nick Saban was on their wish list. Maybe Bill Cowher was, too.
Kelly is staying at Oregon, O'Brien is staying at Penn State and Marrone took the Buffalo Bills job. Saban repeatedly has said he's happy and content at Alabama, but it's Saban, so you have to keep asking. Cowher is now making noises about coaching again, but not now and not with the Browns.
So when do Haslam and Banner look at Jim Tressel?
I know he was a college coach. But so was Marrone, who was .500 in four seasons at Syracuse. Tressel was 94-22 in 10 seasons at Ohio State before losing his dream job in the wake of the Buckeyes' tattoo scandal. His record was 106-22 before OSU's 12 wins in 2010 were vacated.
I know Tressel is 60 and the Browns are looking for young, dynamic coach. But Kelly isn't coming to Cleveland.
I know Tressel's favorite play is the punt (a myth) and his offenses at OSU and Youngstown State were boring (another myth). A closer look shows that his philosophies were rooted in running the ball successfully and preventing opponents from doing so.
Tressel also showed the ability to adapt offensive schemes to match his personnel. Go back and watch the Troy Smith-led OSU offenses. Those Buckeyes weren't all about running off-tackle. Neither was the OSU team that handled Kelly's Oregon Ducks with relative ease in the 2010 Rose Bowl.
Tressel takes a lot of grief for his schemes for a guy who won five national championships and appeared in four other title games with the Penguins and Buckeyes. All he did in Youngstown and Columbus was win. He won a BCS national championship with Craig Krenzel as his starting quarterback and took another OSU team to the title game with Todd Boeckman as the starting QB.
The other knock on Tressel is no NFL experience.
Pete Carroll and Jim Harbaugh were better known as college head coaches before their current NFL success with Seattle and Francisco, but Carroll had extensive NFL experience as an assistant and had an unsuccesful head coaching stint with the Patriots. And Harbaugh played in the NFL and had a brief stint as an assistant coach with Oakland.
Tressel's only NFL experience came in 2011, when he worked as a replay consultant for Indianapolis. After the Colts fired Jim Caldwell, he reportedly interviewed for the team's coaching job before Indianapolis hired Chuck Pagano.
The Browns are into their second tier of candidates. Looking at some of the names that have been mentioned, they could do worse than interviewing Tressel.
God knows — and so do the Browns' long-suffering fans — they've hired guys who were a lot worse.
Ed Puskas is the sports editor at The Vindicator. Write him at epuskas@vindy.com, or follow him on Twitter, @edpuskas85.