Sounds and Grounds cafe to host fundraiser for Goodness Grows
---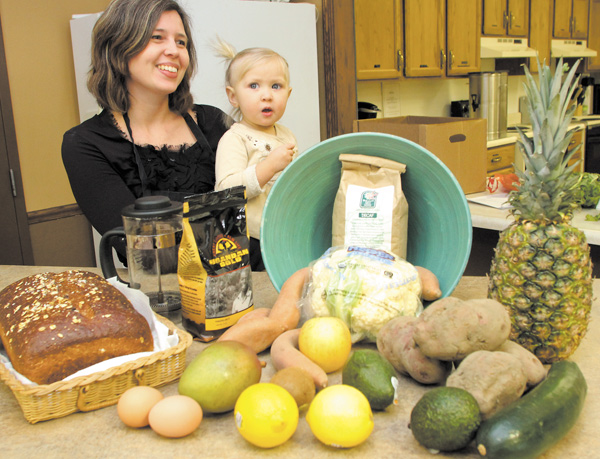 Photo
Kathryn Hatch, a member of Glenwood Christian Fellowship in Boardman and promoter of its cafe, Sounds and Grounds, talks about the benefits of organic foods. She's holding her 19-month-old daughter, Talia Pearl. The cafe will be the site of a fundraiser Saturday for Goodness Grows.
By LINDA M. LINONIS
Boardman
The name Sounds and Grounds, the cafe at Glenwood Christian Fellowship, mirrors what's on the program and the coffeehouse menu.
At a benefit from 5 to 10 p.m. Saturday for Goodness Grows, there will be music to uplift the soul and organic food to benefit the body. Goodness Grows is a faith-based food and farming nonprofit venture cultivated by Common Ground Church Community in Beaver Township.
Sounds and Grounds and Goodness Grows share a commitment to producing food locally and addressing hunger issues, said Greg Bowman, Goodness Grows executive director. He said 70 percent of the proceeds from this weekend's event will benefit Goodness Grows in two ways. Funds will be used toward a gardening program geared to help adults and youths with disabilities and open a storefront to serve as an outlet for area growers.
Sounds and Grounds is the fruition of a vision shared by the Rev. Nathan Doyle of Glenwood fellowship and Kathryn Hatch, a member. Both give credit to ideas and input offered by others involved. It opened last January.
"God laid it on my heart and others to bless our community," Pastor Doyle said. "We've experienced God's grace and we wanted to share it."
Hatch said it's been her dream to be involved in a coffeehouse. This project marries that interest and her devotion to eating well. "It's all what you put value on," she said. She acknowledged that it takes time to prepare foods from scratch but the effort pays off in the food budget and in taste.
To that end, Hatch is the driving force behind the unique salads, gourmet soups and specialty sandwiches, that are 90 percent organic, offered at Sounds and Grounds. "It's also a way to support local organic growers," she said. She and her husband, Charles, operate the Zaney Pearl farm in Leetonia. Its named for their children, Jonah Zane, 5, and Talia Pearl, 19 months.
Hatch said Sounds and Grounds also takes an innovative approach to pricing; it's donation based. Suggested donations for soups, salads and sandwiches are $4. "People are free to give more or less," Hatch said. Many people able to pay more do so because they know it will help keep the cafe going. The cafe also offers specialty coffee drinks and gourmet teas.
Those with limited finances can try organic foods. "That's the outreach to the working poor," Hatch said. "In every culture, food is a way to connect to people."
The Glenwood fellowship is making plans to provide another service to make organic foods more available. By the end of the month, it plans to offer soup, sandwiches and salads three days a week; the days to be determined. Customers will place orders and pick up food between 11 a.m. and 2 p.m. "It won't have the atmosphere of the cafe but the food will be consistent," she said.
Currently, the effort is all volunteer but Hatch said it is hoped the project is successful enough so that someone can be hired.
Since Glenwood fellowship is located across Glenwood Avenue from Boardman High School, Pastor Doyle said four special coffeehouse events had attracted about 50 teens, some with their parents. "We are a safe place for teens to hang out," the pastor said. The church is working on ideas to attract youths.