Thomas leads OSU past Purdue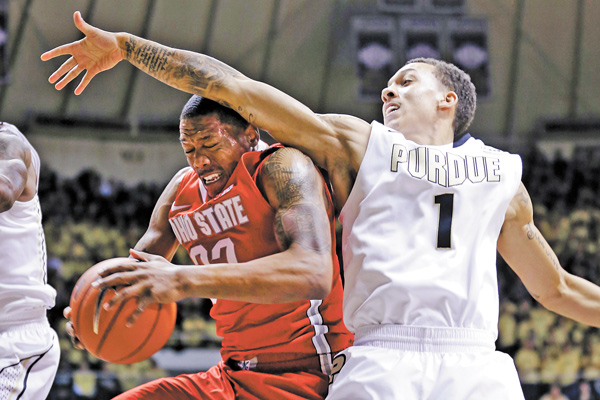 ---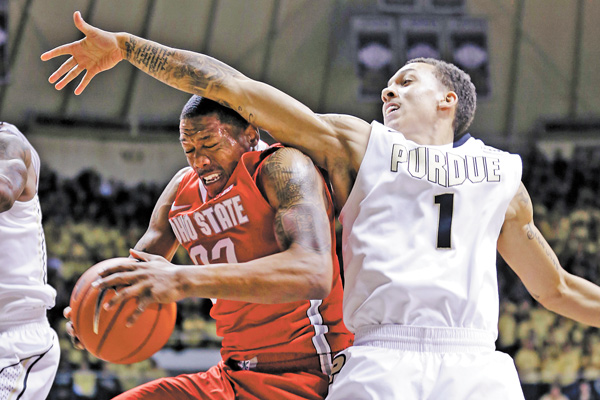 Photo
Ohio State guard Lenzelle Smith Jr., left, grabs a rebound under Purdue guard Anthony Johnson in the first half of a game in West Lafayette, Ind., on Tuesday.
Associated Press
WEST LAFAYETTE, Ind.
Deshaun Thomas scored 22 points to lead No. 15 Ohio State to a 74-64 victory over Purdue on Tuesday night.
The angry Buckeyes (12-3, 2-1) rebounded from their first Big Ten loss by shooting 56.4 percent from the field. They took a 10-point halftime lead despite losing point guard Aaron Craft for all but 4:19 of the first half because of early foul trouble, and Buckeyes coach Thad Matta got his 100th Big Ten victory.
Purdue (7-8, 1-2) has lost two straight to Top 20 teams since upsetting No. 11 Illinois last week. The Boilermakers were led by the Johnson brothers, Terone, who had 18 points, and Ronnie, who had 11 points, six rebounds and seven assists. A.J. Hammons finished with 13 points and eight rebounds.
But the Boilermakers never seriously challenged Ohio State after the Buckeyes took control with 13-2 and 9-0 runs in the first half.
The Boilermakers trailed 64-52 with 8:49 left in the game, and were still down 68-54 with about 6 minutes to go.
Purdue rallied with six straight points and got as close as 70-64 with when Terone Johnson made two free throws with 2:59 left. But the Buckeyes got a long jumper from Sam Thompson with 1:41 to go and the Buckeyes didn't give up another point.
Ohio State just had too many scorers for the Boilermakers to keep up with.