---
Wednesday, January 9, 2013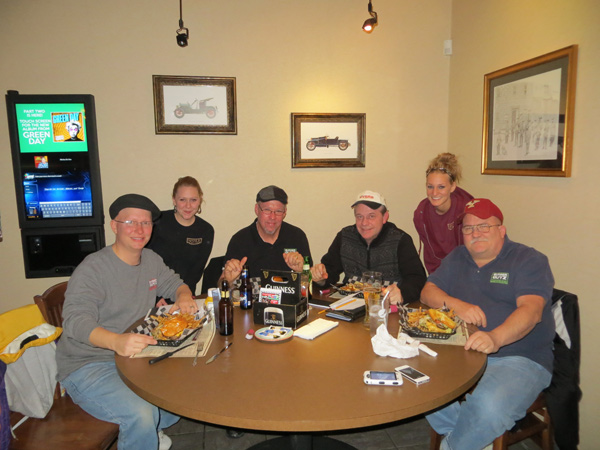 Photo
The Burger Guyz at Shale Tavern & Grille
When You Go...
Where:
Shale Tavern & Grille, 40964 State Route 154, Lisbon
Phone:
330-420-0045
Hours:
2 p.m. to 2 a.m. Monday through Saturday; and 11 a.m. to 11 p.m. Sunday.
Menu:
Six burgers ($7.49 to $9.99) with an option of a turkey burger for each selection
Website:
Rating:
4 1/2
By Anthony M. FUDA
LISBON
The shale boom that has hit this area has even trickled down to the burgers.
The Shale Tavern & Grille in Lisbon was recently the site of our drilling for a great-tasting burger, and our sensors did not steer us wrong.
We took the trip south on state Route 11 and made our way to this elegant eatery.
There are two sides: the grille side, where there is a fireplace and spacious seating for a nice evening out; and the tavern side, also with a cozy fireplace and televisions all around the room. The tavern side has an antique bar where you can sit and a few tables that small groups can occupy.
Figuring we were going to be our rowdy selves, we chose the tavern side and got down to business.
Our waiter, R.T. took us on our burger journey, keeping our drinks full along the way. This was his first night on the job, so we made sure not to make him want to leave in mid-shift.
We were ready to get down to business. There is a very nice selection of entr es on the menu, but we zoned in on the six burgers and were pleased with the options.
They offer a Hamburger, Shale Burger (grilled peppers, onions, mushrooms and provolone), BBQ Bacon Cheeseburger, Blue Devil Burger (dried blue cheese crumbles and haystack onions), Mushroom and Swiss Burger and Big Joe's Double Decker Cheeseburger (1 pound of Angus beef, American cheese and all the fixin's — lettuce, tomato, grilled onions, cheese and pickles).
Each of the half-pound Angus beef burgers are served on a Brioche bun with lettuce and tomato and with a very large portion of fresh-cut fries.
A Brioche bun is a highly enriched bread because of the high egg and butter content. It was toasted perfectly and really added to the taste of the burger.
The burgers arrived, and our noses readied us for what was coming, and our stomachs eagerly anticipated our meal.
While we were marveling at the burger masterpieces, a couple of Shale's waitresses, Valerie Dennison and Michelle Rawson, asked if they could snap a few photos with us — and we couldn't let our fans down.
We then dove into the burgers and were all pleased with our selections.
I went with the Big Joe and thought this picture-perfect burger tasted just as good as it looked. The double-decker lived up to its reputation with a nice grilled beef flavor and very crisp and fresh toppings. This one-pound burger was very filling, but I still had enough room for a slice of chocolate cake.
Johnny also had the Big Joe and said, "It was a sight to behold. The two half-pound burgers were cooked to perfection (well-done yet juicy), and the toasted bun held up fairly well. My burger came with all the fixin's and fresh-cut fries. It could have used a little more seasoning, but I give it 4 out of 5 on the wetnap scale. Come hungry, leave happy, A true feast!"
Scott chose the Blue Devil and said, "The presentation was very good. Everything was great, and the meat was not over seasoned so it didn't overshadow the Blue Cheese, making for a great-tasting burger."
JT had the Mushroom Swiss and said, "It was excellent. The flavor of the mushrooms, smothered under the melted Swiss, accentuated the well-seasoned Angus beef. The only thing that I would change is the lettuce. I, myself, prefer a nice fresh leaf over the shredded.
JT added, "I love everything about this place! Service: excellent. Atmosphere: outstanding. And the burger: one of the best yet.
To all the people who messaged us that the Shale serves an awesome burger, we agree 100 percent! I know it's early, but this burger is definitely a candidate for our 2013 Burger of the Year."
Take the short trip to Lisbon and make sure you get in on this Shale boom. You will be very pleased, and your stomach will reap the burger royalties.
Burger NEWZ:
After last year's success, we look forward to hearing more great suggestions for our hit list. Send them to mvbrb@hotmail.com, and like the Facebook page Burgerguyz so you can keep up with all the freshest burger news.