Racino work begins in Austintown
---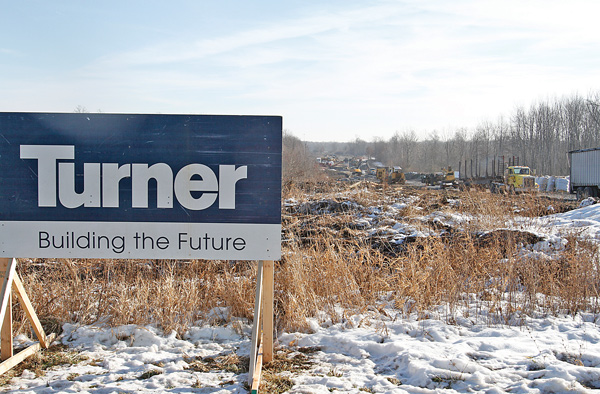 Photo
A sign marks land being cleared by Turner Construction Co. for the Austintown racino, slated to be finished in 2014. Though Penn National Gaming Inc., owners of the property, can clear the land, construction is being held up by approval of a transfer of license from the Ohio Racing Commission.
By SUSAN TEBBEN
stebben@vindy.com
AUSTINTOWN
The site is being cleared for a thoroughbred racetrack and casino, but construction is still on hold as owners wait for the proper permits and licenses on local and state levels.
The Ohio Racing Commission has still not given Penn National Gaming Inc. approval for the transfer of its racing license, currently active at the Beulah Park facility in Grove City, to the future Hollywood Slots at Mahoning Valley Race Course in Austintown.
"We're ready to go in terms of construction," said Bob Tenenbaum, spokesman for Penn National. "But before we're actually authorized, we need the state to approve the switch."
Tenenbaum said there wasn't a timeline on when the racing commission would make its decision, but the delay is based on racing-commission changes to the rules dealing with the transfer of the racing license.
What has been approved is a permit for a storm-water pollution-prevention plan, which was approved by the township zoning office in October. In November, the Mahoning County Planning Commission approved an assembly of parcels for the facility, which will be built on almost 194 acres between state Routes 46 and 11, near Interstate 80.
In April, Penn National paid approximately $4.6 million for the land and is spending roughly $250 million to relocate the racino.
Meaningful construction — meaning foundation and continued earth work — is set to start this spring.
"Weather is our only obstacle for construction right now," said Norm Nelms, vice president of design and construction for Penn National.
The facility will be about 100,000 square feet with a 50,000-square-foot gaming area. Along with a food court and sports bar, 150 indoor "grandstand style" seats will be put in, Nelms said. About 800 to 1000 permanent jobs are estimated to be created from the racino, along with the approximately 800 to 1000 construction jobs, according to Nelms.
As far as the local construction permit, Darren Crivelli, Austintown zoning inspector, said it's hard to tell when the application and permit will come through.
"We do expect the permit to come through in the first quarter of the year," Crivelli said. "This is all a process that will take us right up to the opening."
As far as public comment, Penn National has held public hearings and Crivelli's office has received phone calls, but opposition to the project has largely dissipated.
"Most of what I've been hearing is, 'Is this really going to happen?'" Crivelli said. "Because people in this community have been burned before. But others are asking who they can contact about sending a resume."
Next for the racino is a community outreach event Jan. 17, sponsored by Penn National, Turner Construction Co. and the Youngstown/Warren Regional Chamber. The event — from 4 to 6 p.m. at Ciminero's Banquet Centre in Niles — is geared toward local businesses looking to discuss bid opportunities for concrete, structural steel, site cut and fill and site utilities.
"The goal is to get as much local participation as possible," Tenenbaum said.
The concern over casino revenues is not impacting the Austintown construction, Tenenbaum said, considering the adjusted gross revenue for Hollywood Toledo and Horseshoe Cleveland went up in December, countering a downturn in revenue in November.
"We sort of expected numbers to drop in Columbus because it's still in the grand opening stage, where people were coming because they were just curious about it," Tenenbaum said.
Penn National is also working to transfer the license for Hollywood Toledo to a new facility in Dayton.
More like this from vindy.com