Poland tops LaBrae boys in OT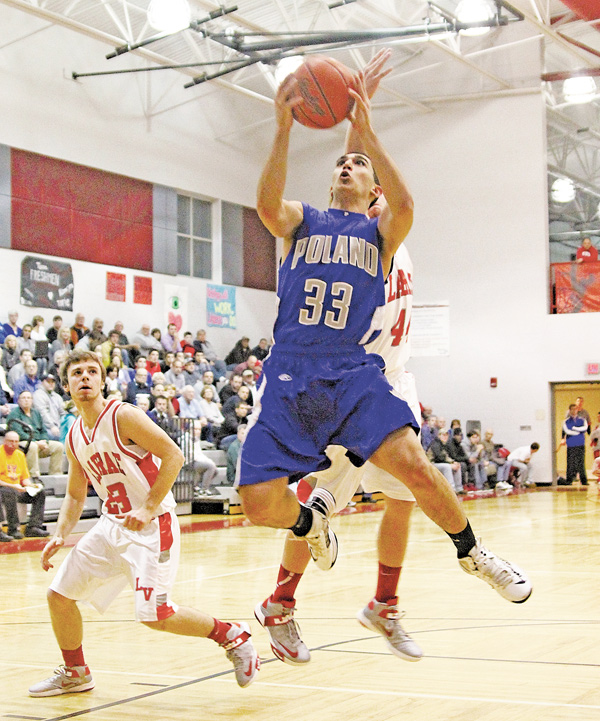 ---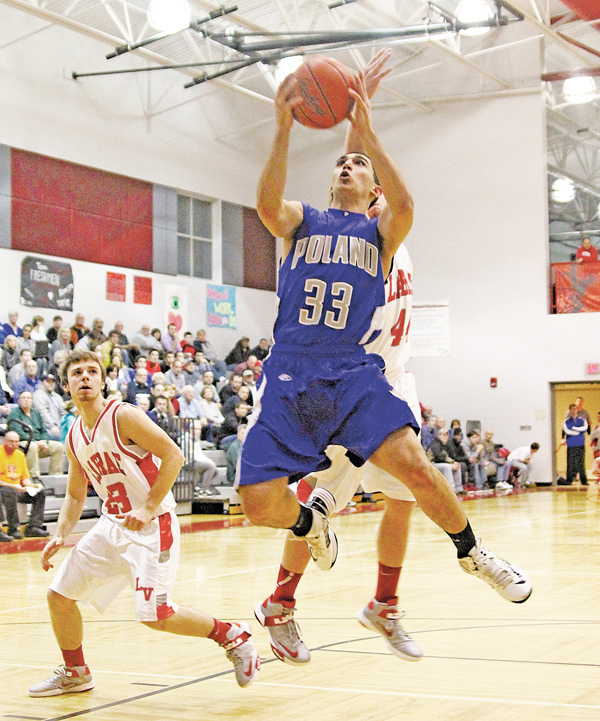 Photo
Poland's George Chammas (33) goes to the hoop against LaBrae during their game on Tuesday in Leavittsburg.
By Ryan Buck
LEAVITTSBURG
Two of the area's strongest boys basketball squads took the court Tuesday night with spotless records.
Only one of them would remain that way.
After seeing LaBrae battle back from a 15-point halftime deficit to take the lead late in the fourth quarter, Poland rallied to force overtime and emerged with a 57-49 road victory.
Trailing 41-38 after LaBrae junior standout Peyton Aldridge's layup, Poland's Jacob Wolfe drained a long 3-pointer from the left wing to tie the game.
"They brought Wolfe off a double screen, a hedge, and he got the wide-open look," said LaBrae coach Chad Kiser. "He drilled it. I thought that was the shot of the game right there."
One more stop forced the extra period. which the Bulldogs dominated.
Poland (9-0) outscored LaBrae 16-8 in the 5-minute overtime period, capping a wild second half.
"Either you're going to step up and finish this thing, or let's not even go back out on the court," Poland coach Ken Grisdale told his team after regulation. "They talked. They made the decision, 'Yeah, we're gonna do this.' I'm proud of them."
George Chammas scored five points in the extra frame. The 6-foot junior forward got the Bulldogs on the board with a fast-break layup for a 43-41 lead a minute into overtime.
With 2:55 left, after LaBrae's John Richards split a pair of free throws, Chammas' clever drive through the paint pushed Poland's lead to 45-42.
"We knew we had to step up or we were going to lose that game," Chammas said. "The whole team stepped up offensively, defensively, we started executing better, and we relaxed."
Having fought all the way back to tie the game and seize the lead, LaBrae's momentum on offense extinguished in the opening minutes of overtime.
"In the first two possessions in overtime, we didn't execute," Kiser said. "We got the tip to start it, but we didn't finish."
Wolfe knocked down one of two free throws then got to the basket for two more of his team-high 17 points. With a 48-42 deficit and 1:45 to go, LaBrae had to foul.
The Bulldogs combined to knock down nine of 13 free throw attempts to put the game away, one they were perilously close to letting slip away.
The Vikings (7-1) held the Bulldogs to two field goals in the second half, including Wolfe's last-minute 3-pointer to tie it.
"We weren't getting as much penetration, so they were kind of physically bumping us out of where we wanted to go," Grisdale said. "We weren't executing really well. We were missing screens. We were on the edge of falling off the cliff."
Aldridge, held to just three first-half points, carried his team in the second half as they mounted the furious comeback. The 6-7 junior corralled a loose ball in his own end and found Chris Clevenger alone for an easy layup for a 39-38 lead — the Vikings' first of the night — with 3 minutes left in the game.
Tuesday night's All-American Conference showdown was a tale of two halves, indeed. Aldridge finished with a game-high 19 points.
Poland shot out to a commanding lead and carried the performance into the half. Kevin White hit three shots from distance and Wolfe battled inside against Aldridge for eight first-half points.
"We came out and we lit it up," Grisdale said. "We did what we needed to do."