Canfield hockey team sole survivor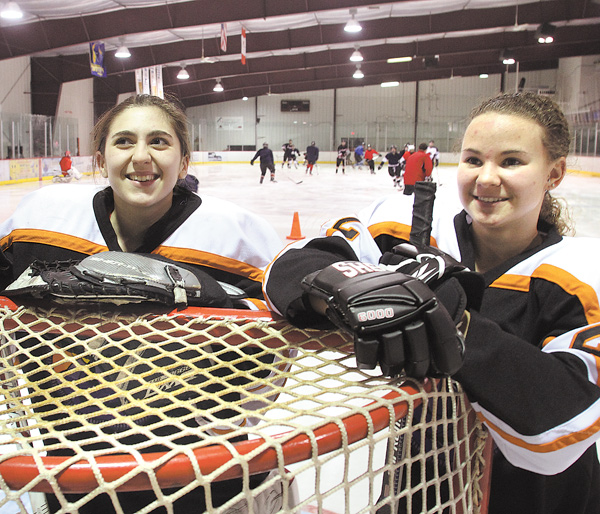 ---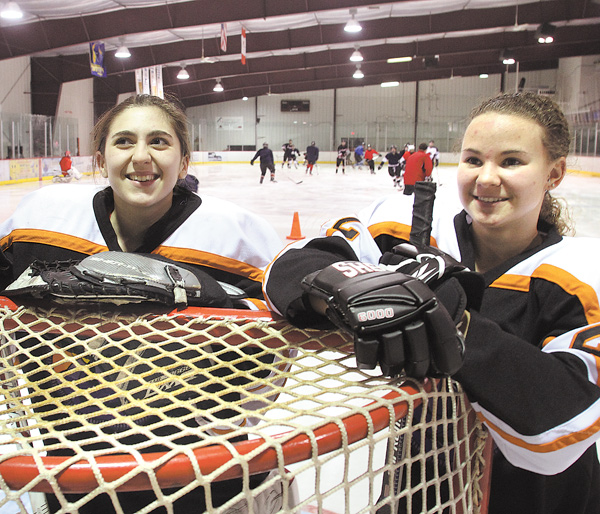 Photo
The Canfield High hockey team includes two female players — goaltender Megan Cole, left, and forward Brittany Bettile. Both are juniors.
By Tom Williams
BOARDMAN
When it costs more than $1,000 to play with little chance of finishing above .500, there's only one way to explain the dedication Canfield High's hockey players show.
"It's a love of the game that these kids have," said Randy Emery, the Cardinals' sixth-year head coach.
Canfield is the only Mahoning Valley team in the Greater Cleveland High School Hockey League. The Cardinals are 1-13 heading into today's Senior Night contest against Garfield Heights at 5:30 p.m. at the Ice Zone.
It's not easy being the only high school-sanctioned team in the area. The team is self-funded (cost is $900 per player), but do get to ride school buses on road trips. Parents are responsible for equipment.
"My parents spend so much money on me for hockey," senior captain Patrick Bassett said. "They got me a new stick for Christmas and it cost over $100. Best way to put it is it's great that they do that."
Canfield's roster has 16 players — two are females. Junior Megan Cole is the Cards' top goaltender while junior Brittany Bettile is a forward with a goal and two assists on the season.
"I have to admit — at first, you say to yourself, 'can a girl play hockey?'" Emery said. "After watching them dedicate themselves to practicing, playing, getting better, it's not even a question any more.
"Megan and Brittany played in our developmental program," Emery said. "I don't look at them as female athletes — when they step on the ice, they are one of our players."
Josh Tancer, the Cardinals' other senior captain, says he enjoys playing a sport that combines elements of other sports.
"It's just such a great sport, it has everything — the pace and speed of basketball, the contact of football, the finesse and control of soccer," Tancer said.
In 2000, Dave DeJoe coached the Cardinals' first Ohio High School Athletic Association-sanctioned team. Joe Villano took over for DeJoe in 2003, then was followed by Emery in 2006. Villano remains the goaltender coach.
Tancer and Bassett didn't try hockey until they were seventh graders, coming up through Canfield's developmental program.
"I really wish I had started earlier because hockey is one of those sports where you just have to start young and get comfortable on the ice and in skates," Tancer said.
Bassett doesn't mind the road trips to Kent, Aurora and Cleveland suburban rinks.
"The bus rides are kind of fun to me, everyone gets along," Bassett said. "But it would be nice to have [more] teams around here to make hockey bigger."
Years ago, Boardman, Poland and Mooney-Ursuline offered club teams. None remain.
Emery said his program stresses the tradition DeJoe started.
"One thing I always emphasize with anybody who comes into our program — we're here for a snapshot, but we've got to leave something behind for the people who keep coming in," Emery said. "It's not just for your kid, it's [also for] the kid coming up after.
"That's one thing I have to say for our organization. Our win-loss record is one thing, but we are successful because our parents care not only about their kid, but the next generation coming up. That's a great benefit that we have."