YSU demolishing historic church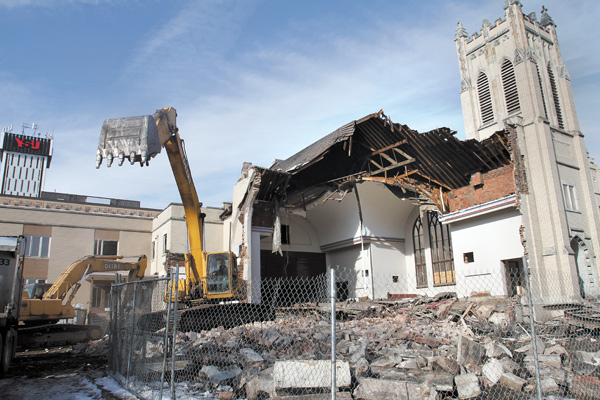 ---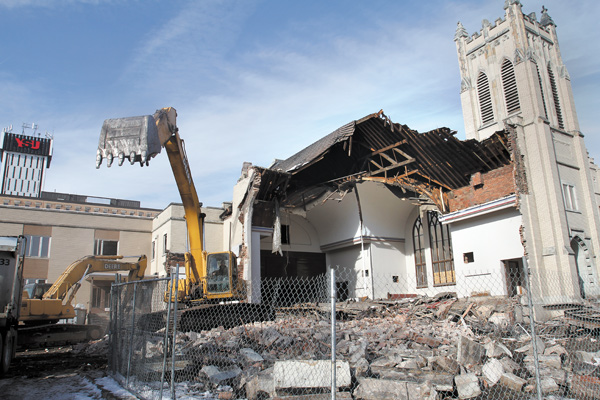 Photo
Crews began tearing down Pilgrim Collegiate Church on the Youngstown State University campus Tuesday. The area will be used, at least initially, for green space — opening up the view to Jones Hall, the original building on campus.
By Denise Dick
Youngstown
Crews began tearing down the historic Pilgrim Collegiate Church on the Youngstown State University campus Tuesday.
The church, at the corner of Wick and Lincoln avenues, was built in 1922. YSU bought the building in 2008. At the time, the university wanted to ensure that the property wasn't developed commercially.
Ron Cole, YSU spokesman, said the site will be used for green space, at least in the short term.
"It really opens up that corner to the signature building on campus, which is Jones Hall," he said.
Jones is the campus's original building.
"It's a stately looking building that sits right at the entrance to campus," Cole said.
YSU opted to tear down the church last March after a joint university-community committee was unable to find a feasible use for it. Needed repairs, including a new roof, rendered restoration cost-prohibitive.
Cole said that a small amount of asbestos had to be removed from the structure, pushing back the project. The large stained-glass windows were removed by the church from which the university bought the building, now Faith Community Church of Youngstown, which reserved the right at the time of the sale to remove the stained-glass windows at its cost if the building were demolished.
Other items, including smaller stained-glass windows, pews, woodwork and a chandelier were sold by the university to be used in off-campus projects, the spokesman said.
More like this from vindy.com