Sammarone won't run for Youngstown mayor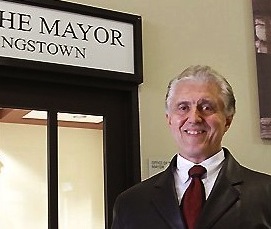 ---
YOUNGSTOWN
Charles Sammarone won't run for Youngstown mayor, a position he's held since Aug. 1, 2011, and will file as early as next week for his former position as city council president.
"To correctly manage government takes a lot of time, and at my age, I want to spend time with my family, especially my grandkids," said Sammarone, who will be 70 on Feb. 5, in an exclusive interview Monday with The Vindicator. "As council president, you can manage your time better than as mayor. I want to stay in city government to continue my policies of accountability, pushing for improvements in the neighborhoods, including more demolitions, more consolidation with [Mahoning] County, and financial stability."
Even before he became mayor Aug. 1, 2011, and until last month, Sammarone, a Democrat, repeatedly said he was "99-percent" sure he wouldn't run for the job in this year's election. But Sammarone said Dec. 17 that he was "reconsidering" his decision after several people asked him to run for mayor.
"People like how I've served as mayor with a focus on accountability and an open-door policy," Sammarone said Monday.
If the mayoral term was two years instead of four, "I might have been influenced to go the other way," he said.
Instead, Sammarone said he will run in the May primary for the Democratic nomination for council president, a position he had for more than 17 years.
Feb. 6 is the deadline to file for the Democratic primary, which is May 7.
Sammarone's decision as well as a Monday announcement from state Rep. Robert F. Hagan that he also wouldn't seek the mayoral position brings clarity to the races for mayor and council president.
John McNally IV, a former Mahoning County commissioner and Youngstown law director, and Matthew Smith, who unsuccessfully ran for elected office in the city more than 25 years ago, are the only candidates to file for the Democratic primary for mayor with the county board of elections.
Council President Jamael Tito Brown expects to file his nominating petitions shortly.
No other candidates have announced interest in running in the Democratic primary for mayor.
But DeMaine Kitchen, Sammarone's secretary/chief of staff, said a mayoral bid as an independent is something he's seriously considering. He hasn't made a final decision.
Also, community activist Phil Kidd said if he runs for mayor, it would be as an independent candidate.
May 6 is the filing deadline to submit nominating petitions to run as an independent in the November general election.
In 2005, the last time the mayoral seat was an open race, Jay Williams successfully won as an independent.
Hagan, the Democratic nominee who lost to Williams eight years ago, said he wants to finish his final term in the Ohio House, and is looking at running in 2014 for a number of positions including Ohio secretary of state, county commissioner and a seat in the state Senate.
"Everything is open," he said. "I don't think my time as a public servant should be cut by term limits."
No one has filed to run for council president. Some were waiting for Sammarone's decision on what he would do before making their decisions.
If Sammarone ran for mayor, he said he is confident he'd win.
The mayor hired the Liberty-based Rubenstein Associates, a marketing consulting firm, to conduct a telephone poll of 357 Youngstown voters.
"It shows all the hard work I've done is appreciated," Sammarone said.
He shared some of the poll's information with The Vindicator on Monday.
Of those polled, 23 percent said Sammarone was doing an "excellent" job, 43 percent said it was "good," 19 percent said it was "fair," 7 percent said it was "not good," and the rest either had no opinion or didn't respond.
Also, 75 percent had a positive opinion of Sammarone compared with 5 percent who had a negative opinion about the mayor with 20 percent not having an opinion.
Of those polled, 64 percent wanted Sammarone to return to city council, 9 percent didn't, 10 percent said maybe, and the rest were undecided.
Sammarone said he was concerned that of those polled about the ability of city council's to lead the city only 10 percent said they were very confident and 50 percent said they were somewhat confident.
"That's not good," he said.
By returning to city council as president, Sammarone said he's hopeful he can increase people's confidence in council.
"People have been telling me if I don't run for mayor, I should go back to council because of my knowledge and experience," he said.
Sammarone became mayor Aug. 1, 2011, after Williams resigned to join the President Barack Obama administration. Under the city charter, council president automatically succeeds the mayor and fills out the remainder of the term if the mayor leaves early.
More like this from vindy.com