Boxers prone to brain injuries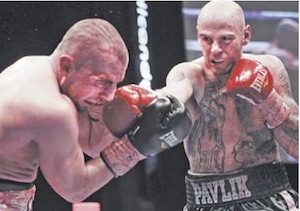 ---
By NICK MANCINI
TheNewsOutlet.org
Nearly 90 percent of boxers suffer a brain injury, according to the American Association of Neurological Surgeons.
"It is just repetitive trauma to the head — like whiplash on a daily basis," said Dr. Luis Villaplana, a Youngstown physician.
"The brain has very little space to move inside the skull. It is never good to have repetitive trauma on an incased organ. Even if you have strong neck muscles, the punches will take its toll."
Because of this, boxers are more prone to mental deterioration in their later years. Sometimes this leads to Parkinson's or Alzheimer's.
Kelly Pavlik is 30, but has taken more shots to the head than the entire population of Youngstown will take in a lifetime.
"It is self-inflicted in a way," he said. "It isn't like we don't know what we are doing. But it is what we do."
Jack Loew, who owns Jack Loew's Southside Boxing Club and once trained Pavlik, said boxing is definitely a dangerous sport.
"I don't think boxing is anymore dangerous than [professional] football," Loew said. "But every single week in high school football, someone is going to the hospital or their season ended."
Spurred by the "increased public attention and acceptance in recent years" of boxing, a team of researchers in Germany, led by Dr. Hans Forstl, studied the health consequences of boxing. They published their results, "Boxing — Acute Complications and Late Sequallae," in Nov. 26, 2010. They found that there have been 10 deaths each year since 1900 attributable to boxing. Most of these were caused by injuries to the head and neck.
"The risk of punch-drunk syndrome as a late effect of chronic traumatic brain injury is associated with the duration of a boxer's career and with his earlier stamina," the study concluded.
The researchers also found wearing headgear — as required in amateur boxing — greatly reduces these injuries.
"Similar measures can also be used in professional boxing, but may decrease the thrill, which does appeal to many supporters," the article says.
William Fry, a Youngstown State University psychology professor, said boxers often suffer mental health problems later in life.
"It is not uncommon for boxers to end up with dementia," he said. "Look at Muhammad Ali and all the blows to the head he took. He now deals with Parkinson's. Think of Joe Louis, he ended with dementia."
Louis, better known as the "Brown Bomber," was the world heavyweight champion from 1937-49. He successfully defended his title 25 times and is considered one of the best fighters in history.
But not every boxer develops the same symptoms.
"It varies in every boxer," Villaplana said. "Mental activity is a global system in the brain. It affects everything. Mental lapses, speech impairment, hearing and smell can all be part of the problems."
Those in the business say there are measures that can be taken to help prevent these problems. Loew said it starts in the gyms.
"I think some of these people have to stop the gym wars," he said. "Believe me, we have them here. Some of the sparring is better than the fights."
Pavlik would like to see something that has already been implemented in other sports: a pension program.
"I know baseball and football have something like this, I think it would be great in boxing," he said. "If you fight for so many years or something of that nature, you could be eligible. My health and life insurance are sky high because of what I do. Something like this would be a huge help."
Harry Meshel of Youngstown has been an advocate for this type of system in boxing. But, as of now, just doesn't have backing for it.
Meshel, who is best known as a trustee for Youngstown State University and former state senator, was one of the founding members of the Ohio Boxing Commission. He said the lack of knowledge of boxing safety dates to the early days of the sport.
"The federal government just didn't know enough about boxing," Meshel said. "They weren't interested in regulating it, so the states all had their own boxing commissions and each had their own set of rules.
"We just didn't have a strong proponent backing us. Promoters didn't want to lose any of their gate money with a pension-type program. We just aren't as close as we should be to a standardized governing body in boxing."
TheNewsOutlet.org is a collaborative effort between the Youngstown State University journalism program, Kent State University, The University of Akron and professional media outlets including, WYSU-FM Radio and The Vindicator (Youngstown), The Beacon Journal and Rubber City Radio (Akron).