Luck runs out: Ravens drop Indianapolis
---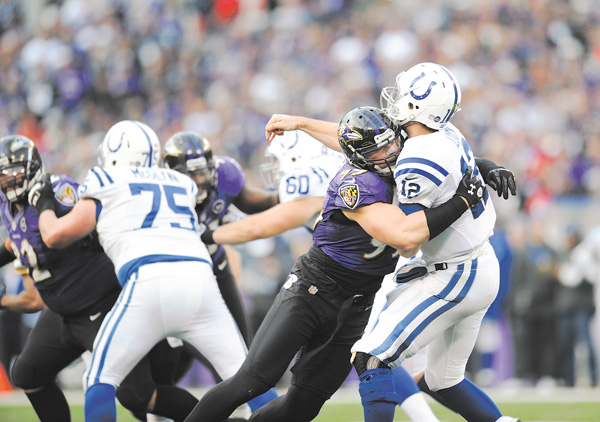 Photo
Indianapolis Colts quarterback Andrew Luck is hit by Baltimore Ravens outside linebacker Paul Kruger as right guard Mike McGlynn, a graduate of Austintown Fitch High, blocks during the second half of their AFC wild card playoff game Sunday. The Ravens won, 24-9.
Associated Press
BALTIMORE
The Baltimore Ravens wanted one long final ride for Ray Lewis.
They also wanted Denver. They got it.
Having disposed of Andrew Luck and the Indianapolis Colts, they now face a far more imposing challenge — Peyton Manning and the streaking Broncos.
Anquan Boldin set a franchise record with 145 yards receiving, including the clinching touchdown in the Ravens' 24-9 victory Sunday over the Colts in an AFC wild-card game. The win delays star linebacker Lewis' retirement for at least another week as Baltimore (11-6) heads to top-seeded Denver (13-3) next Saturday.
The Broncos beat the Ravens 34-17 three weeks ago.
"I wanted Denver," Boldin said, "because they beat us.
"We'll make it different."
And he wanted the Broncos because it prolongs the Ravens' pursuit of their first NFL title since the 2000 season, when Lewis won the first of two Defensive Player of the Year awards.
"I came to Baltimore to win a championship," Boldin added. "We all did."
Lewis, who made 13 tackles Sunday, ended his last home game in Baltimore at fullback, of all things, for the final kneel-down. He then went into a short version of his trademark dance before being mobbed by teammates.
He followed with a victory lap, his right arm, covered by a brace, held high in salute to the fans after playing for the first time since tearing his right triceps on Oct. 14 against Dallas.
"My only focus was to come in and get my team a win. Nothing else was planned," the 37-year-old Lewis said. "It's one of those things, when you recap it all and try to say what is one of your greatest moments.
"I knew how it started but I never knew how it would end here in Baltimore. To go the way it did today, I wouldn't change nothing."
He would like nothing more than to change past results against Manning, who was 2-0 in the postseason against Baltimore while with the Colts.
"It's on to the next one," the 17-year veteran said. "We saw them earlier in the year and now we get them back again, but with all of our guns back."
The loss ended the Colts' turnaround season in which they went from 2-14 to the playoffs in coach Chuck Pagano's first year in Indianapolis (11-6). Pagano missed 12 weeks while undergoing treatment for leukemia and returned last week.
He was upbeat following the defeat to the team he served as an assistant coach for four years.
"The foundation is set, and we said we were going to build one on rock and not on sand," Pagano said. "You weather storms like this and you learn from times like this."
Offensive coordinator Bruce Arians, who went 9-3 as interim coach, was absent Sunday after being hospitalized with an undisclosed illness. Pagano said Arians "is fine" and would stay overnight for observation before rejoining the Colts on Monday.
Quarterback coach Clyde Christensen called the plays, but Baltimore's defense never let Luck get comfortable.
"It's great making the playoffs, but you can't make mistakes and expect to beat a playoff team like we did," said Luck, who was sacked three times, Paul Kruger getting 21/2 of those. "We'll have to look back at those and hopefully fix them."
Sunday's victory enhanced the Ravens' success rate in opening playoff games. Flacco now has won at least one postseason game in all five of his pro seasons, the only quarterback to do it in the Super Bowl era.
More like this from vindy.com