Published: Mon, January 7, 2013 @ 12:07 a.m.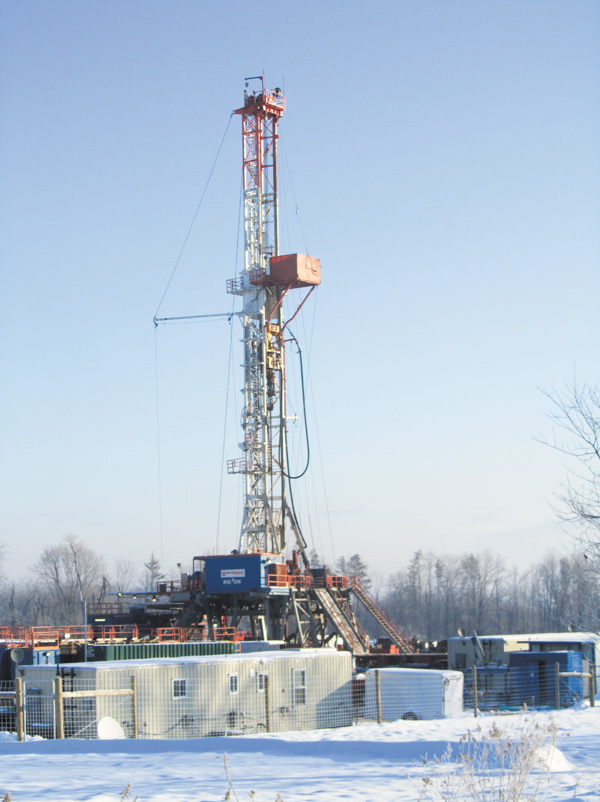 Photo
Halcon Resources is beginning its work to drill Trumbull County's first horizontal gas well on this property in Burghill.
By Ed Runyan
BURGHILL
Glenn Brugler says it's "kind of neat" that his last name will be attached to Trumbull County's first horizontal gas and oil well, but there's a bit of sadness on another level.
Brugler, who owns a farm on Hayes-Orangeville Road, leased land about a mile away on the road that Halcon Resources is using for a drill pad.
Halcon brought a drill rig 6 miles west over the Pennsylvania line to the wide-open lands of Burghill on Dec. 22 to begin its Trumbull County drilling.
Only one other site in Trumbull County has a permit to extract oil and gas from the Utica shale underground, but that site — off of Warren-Sharon Road in Vienna Township — has not begun drilling. BP America has indicated it plans to begin drilling test wells in April.
"It's kind of neat. It's kind of like having your name on the sign at the end of the road," Brugler said of the signage at the corner of Hayes-Orangeville and state Route 7 directing trucks to the well site. The signs call it the "Brugler well."
Other signs tell trucks traveling down Hayes Orangeville to go 5 mph.
The towering 136-foot drill rig on 8 acres of Brugler's land stands out in the nearly treeless landscape.
But Brugler admits seeing the rig on some of his best farmland also is sad because of how well that land looked after he made drainage improvements not long ago.
"It's kind of depressing to see that progress go away," he said. "As people say, it will eventually pay."
Brugler explains that the owner of the land on which a drilling well pad is constructed receives additional compensation than someone whose land is mined but not disturbed by a well pad.
He is also compensated for loss of revenue from the crops that could have been grown there.
Randy Smith, Trumbull County engineer, said his office reached a road-use and maintenance agreement with Halcon for the Hartford well site in which Halcon will upgrade Hayes-Orangeville Road in the spring, when it's warm enough to make pavement improvements.
Smith expressed concerns last spring over the attitude of the company Carrizo Oil and Gas Inc. of Houston, which indicated that it saw no need to make improvements to Hayes-Orangeville Road before or after it drilled there.
Carrizo had mineral rights to the property at the time but sold them to Halcon.
Smith said he has been satisfied with the negotiations his office has had with Halcon on road work on Hayes-Orangeville Road and on several roads in Lordstown, where Halcon plans to drill a well in February.
Halcon's road use and maintenance agreement for Hartford Township, which the county commissioners approved Dec. 5, requires Halcon to take out a $100,000 bond and carry $2 million in liability insurance.
Halcon's next well is planned for the Kibler property on Brunstetter Road near the Animal Welfare League of Trumbull County offices. Halcon's road-use and maintenance agreement calls for road improvements on Hallock-Young Road, Highland Avenue and Brunstetter Road.
The company plans to drill between Feb. 3 and March 5 and wants to begin posting signs along the traffic route in a couple weeks, Smith said.
Vince Bevacqua of the Prodigal Company, spokesman for Halcon, said drilling at the Hartford Township site began on Friday, and usually lasts about 30 days. When completed, the drilling rig and derrick are removed.
After that, hydraulic fracturing takes place for about three to five days to enhance the flow of oil and gas, Bevacqua said.
Don Baxter, who lives just east of the Hayes-Orangeville drill pad, said he leased about 50 acres of his land on either side of Hayes-Orangeville Road to Cobra Resources LLC in late 2011 with the understanding that the lease would be for the older-style vertical well, not the type of horizontal well Halcon is drilling.
His signing bonus was $400 with royalties of 12 percent.
Baxter says he was understandably upset several months later when he learned that 1,000 Trumbull County landowners had leased 84,000 acres to BP America for about $3,900 per acre and royalties of 17.5 percent.
"$150,000. That would make you upset," he said of the money he feels he and many of his neighbors missed out on.
Cobra later sold his lease to Carrizo, which sold it to Halcon.
Baxter says he still stands to gain from royalties if a well is drilled on his land, but he doesn't know whether his land is part of the acreage Halcon is using for the Brugler well.
"I'm not sure if I'll be in the unit that's being drilled," Baxter said. "It's quite possible I'll be able to get royalties out of it," he said.
The day before actual drilling started, Baxter said that he doesn't need lights on at night because lights from the rig light up the whole area. It also makes some noise, but nothing so far that keeps him awake at night. There hasn't been a huge amount of traffic either.
But friends who have been near wells that use hydraulic fracturing have told him that there's a part of the drilling process that is louder. "They say when they start cracking, it's a lot louder than this."
Baxter said it's hard to know what to expect to happen as a result of the well since it's the first one in the area.
"It's a little easier to take [complications of the drilling] if you got paid $150,000 or whatever. At least you'd have something to pay for repairs if something goes wrong."
Steve DeArmament, who lives about a quarter mile west of the well pad and never leased his 1 acre of land, said the well pad "doesn't bother me none," adding, "There's a saw mill that's louder than the well."