Chief wants to see less guns and decreased violence in 2013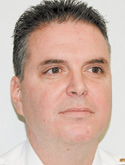 Photo
YOUNGSTOWN
Overall crime in the city dropped 7 percent between 2011 and 2012, but violent crime increased, and police Chief Rod Foley said the department has programs in place to help curb that violence.
City crime statistics for the first 11 months of 2012 have been released, but the figures for December have not been computed yet.
During the first 11 months of 2011, the city recorded 4,349 total crimes compared with 4,042 for the first 11 months last year.
Violent crimes are categorized as murders, rapes and robberies. Property crimes are burglaries, thefts, motor-vehicle thefts and arsons.
The city recorded its first murder in 2011 on the first day of the year when 30-year-old Randy Cappelli was found lying next to a burning automobile on Shady Run Road on the South Side. There were 23 murders in the city that year.
The first murder of 2012 came on the seventh day of the year when 18-year-old Tre-Von Kimbrough was shot and killed behind a vacant business on Market Street, also on the South Side. The city recorded 25 murders last year.
The increase in the murder rate is representative of a 6-percent increase in overall violent crime.
"Murders have been consistent with what we have seen over more recent years, but we have had a lot of rapes [last] year, and that is unusual," Foley said. "Robberies are also slightly up with about 15 more than the previous year."
The department, along with city officials and other groups, have programs in place that they hope will reduce violent crimes in 2013, Foley said. One of the major programs he is counting on is the Community Initiative to Reduce Violence, which works with social groups and the faith-based community getting offenders help and education.
"We have seen that when we get our patrol division, other departments and other groups involved there is a difference," the chief said. "I see the impact we have made but it is short term until we get involved with [offenders'] lives and solve some of their problems. Until then, you are just putting a Band-Aid on it."
Foley said he realizes there will always be crimes of violence the department cannot stop, but programs like CIRV go a long way to curb violence overall.
Foley said the department also will be getting away from random or routine patrols and focusing more on intelligence-based policing and spot patrols. He said more can be accomplished by identifying problem areas in the city and focusing police resources to those areas.
"This will get us a little more focused on where we need to be in order to prevent crime instead of just managing it," he said.
Much of that targeted enforcement likely will be the areas between South Avenue and Market Street, and Indianola Avenue and Midlothian Boulevard, all on the South Side.
Foley said that area contains the highest concentration of gang members in the city and often shows a high volume of calls for gunfire and other criminal activity.
The city soon will have a program on its website where residents can track crime in their neighborhood. The idea, Foley said, is to increase public participation in eradicating crime in each area of the city.
Foley said a major effort of the police department has been making arrests of individuals carrying guns. He said catching these people before they have the opportunity to commit a crime with the weapon is critical to lowering the crime rate.
"Hopefully, the programs we have put in place will bring in more of these gun arrests," he said.
Property crimes such as theft, burglary and vandalism are down by about 9 percent during 2012.
Foley said police intervention and the arrest of serial offenders have a lot to do with the decrease.
"We have made a lot of arrests of habitual burglars. One habitual burglar can commit 10 to 15 burglaries a week, so making those arrest can really drop those numbers," he said.
"We are happy to see crime overall down by 7 percent, but we realize we have a long way to go. We are trying to put programs in place to bring down the numbers."