Brides-to-be dash down the aisles at Covelli show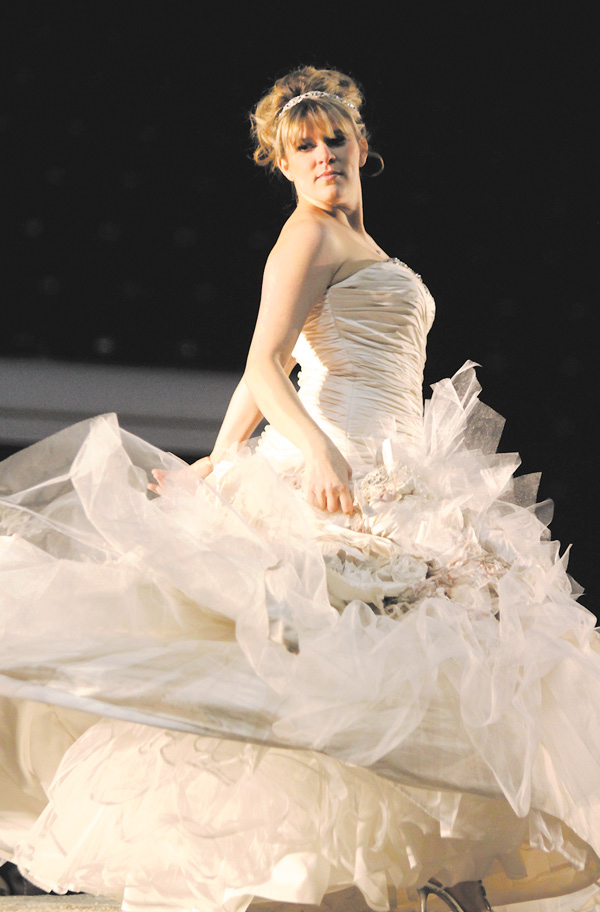 ---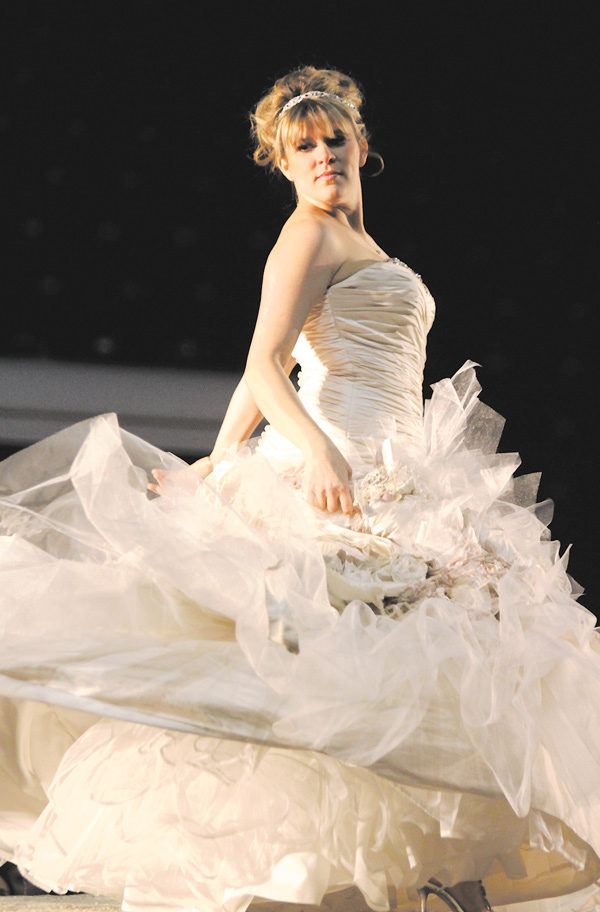 Photo
Holly Naples of Warren models a wedding gown Sunday during the Premier Bridal Show at the Covelli Centre. The bridal show sponsored by Evaline's Bridal and Thom Duma Fine Jewelers, both of Warren, attracted wedding vendors and throngs of prospective brides from across the region.
By ELISE McKEOWN SKOLNICK
YOUNGSTOWN
The Covelli Centre was packed with vendors offering a variety of products and services for weddings — and with brides-to-be lined up for the chance to speak with them.
Sherry Jones of Hermitage, Pa, waited about 10 minutes to sample cakes, talk with photographers and meet other vendors at the Premier Bridal Show of 2013 on Sunday.
"They have a lot of vendors. It's really nice," Jones said. "We found a lot of things that we liked."
Jones has been engaged to Charlie Pitts, also of Hermitage, since August. The couple plans a June wedding, andthe show gave Jones a chance to finish wedding plans.
"It's so much easier than making appointments and going to each individual place," she said. "That's so time-consuming."
Limousines and florists are the last items on her list to complete her wedding plans.
Her sister-in-law, Melissa Jones, came along to help. Already married, she's been through the process herself. She attended bridal shows when planning her wedding.
"I think this is the most comprehensive selection of vendors," she said.
Angela Doverspike, of Liberty, has most of her wedding plans in place. She will marry Jeff Worona, of Liberty, in May.
"I've never been to [a bridal show] before so I figured why not try it out?" she said.
She found some vendors of interest, but noted that the event was very busy.
"It's good," she said. "It'd be better if it wasn't so crowded."
Her cousin and maid-of-honor, Rae Overspike, agreed.
"It's really hard with so many people you can barely walk down the aisles," she said. "But there's a lot of stuff here."
The pair collected a bag full of samples and business cards and said it's helpful to have everything needed for a wedding available in one location.
Kim Hoover, owner of Kim's Confections, Austintown, participated for the first time.
"I thought it was a great opportunity," she said. "There's a lot of great people here. It's a great name, and I knew it would be really busy."
Hoover offers a variety of confections for weddings.
"We do cookies, cupcakes, cake pops, pretty much any type of sweet treats that you would want," she said.
She's glad she chose to participate in the bridal show.
"It's wonderful," she said.
The bridal show takes place annually by Evaline's Bridal, Warren. This year, Thom Duma Fine Jewelers, Warren, co-sponsored the event.
"We've both been [in Warren] for over 60 years, which is fantastic," said Lori Dubasik, owner of Evaline's Bridal. "He has such a high-end jewelry line, we do the high end bridal line. We thought we need to do this together. And we did, and it's fantastic. I think it's a perfect marriage."
The event included a fashion show and raffles. More than 30 vendors participated.
More like this from vindy.com