VIDEOS | New Sheriff Greene appoints veteran jailers
Tweet
Published: Sat, January 5, 2013 @ 12:10 a.m.
New sheriff to take oath of office today
VTR -Sheriff-elect Jerry Greene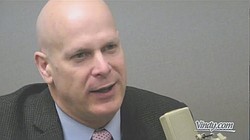 Video Set
YOUNGSTOWN
Mahoning County Sheriff-elect Jerry Greene, who will be sworn in today and officially takes office at 12:01 a.m. Monday, has appointed a command staff consisting entirely of longtime sheriff's department employees.
Detective Jeffrey Allen and Lt. William Cappabianca, who have been with the department 19 years and 13 years, respectively, are being promoted to the rank of major.
Sgt. Thomas J. Assion, who has been with the department for 111/2 years, is being promoted to the rank of commander, which is between captain and major.
Deputy Joseph Iberis Sr. has succeeded Assion as president of Fraternal Order of Police Lodge 141, which represents Mahoning County deputies.
"This isn't based on friendship or anything other than making the sheriff's department a better place," Greene said of his appointees. "They're the best in their field, in my opinion. They bring a wealth of experience and a wealth of knowledge."
"Nobody's coming in from the outside, so everybody here knows what's going on with this agency," Assion added. "We know the people. We know the personalities. We know what's going on. We know what needs to be done, and we're in a position to hit the ground running."
Assion will oversee the department's training division, labor relations and public relations, policy and procedure revisions, and will assist with grant-application writing.
Greene, who has been with the department for 20 years, said he promoted Assion because of "his work ethic, his knowledge, his intelligence" and his ability to get along well with others.
"We want to be fiscally responsible and work the best with the budget that's given to us," and operate the department in a businesslike manner, Cappabianca said.
"That's something that we're going to be looking at every day and monitoring it very closely and making sure we're spending our money wisely," Greene said of the budget.
Cappabianca, who now heads the patrol division, will be in charge of administration as a major. In his new role, he will oversee the budget and new hiring. The office has some 220 employees and an annual budget of about $18 million.
Allen will oversee the road patrol and detective divisions and security at the county courthouse and other county buildings and the area courts in Austintown, Boardman, Canfield and Sebring.
Alki Santamas, who has been serving as a major under retiring Sheriff Randall Wellington, will remain as a major in charge of jail operations.
"Alki is the brains behind the entire jail operation," Greene said. Santamas has worked for the department for 211/2 years.
Two majors, Michael Fonda and Leonard Sliwinski, who had been with the department 21 and 31 years, respectively, retired Dec. 28.
The civilian job as director of support services, which Greene occupied during his campaign for sheriff and as sheriff-elect, will be abolished, so Greene said the office's administrative cost will remain about the same.
A major earns about $74,000 a year and a commander about $70,000 annually, Greene said. As sheriff, Greene will earn $94,691 annually.
Greene said his goals as sheriff are to stabilize his department's finances; fully open the main jail, which is now 75 percent open, and reopen the minimum-security jail; introduce fees to banks for foreclosure sales and, possibly, bill inmates for booking fees and jail stays, where possible; and increase fees for criminal background checks.
Greene said he hopes full opening of the main jail and reopening of the minimum-security jail can be accomplished with an addition by the county commissioners of $1.3 million to $1.4 million to his annual budget.
Greene underwent two weeks of state-mandated training for new sheriffs in Columbus last month and will undergo a third week of it in February. The training covers requirements for jail operation, patrol, real-estate appraisals, sheriff's sales, liability, funding and labor-relations issues and use of force.
Greene said Sgt. Thomas DeGenova will continue as the department's fiscal officer, and that he will soon appoint a new training officer to replace Sgt. Charles VanDyke, who retired Dec. 28.
He also said that he will appoint a fiduciary deputy to the office's internal-affairs department in the near future.