Pastor replaces Ditzler as new Austintown trustee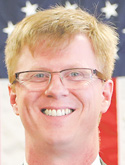 ---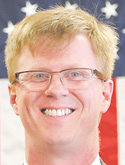 Photo
By Susan Tebben
AUSTINTOWN
The senior pastor of a Presbyterian church is the township's new trustee.
The Rev. Rick Stauffer, pastor of Tabernacle Evangelical Presbyterian Church on Raccoon Road, was chosen Thursday by trustees Jim Davis and Lisa Oles as the replacement for David C. Ditzler, who was elected a Mahoning County commissioner in November.
"Lisa and I felt we had a pretty good grasp of the community and we were elected because of our ideas and objectives, so we felt we could make the right decision for Austintown," Davis said. "[Stauffer] is somebody who is actively involved in the community in so many ways."
Davis approached the Rev. Mr. Stauffer about the position. After deliberation with his family and church, the pastor said he would be willing to be considered on the condition that it would be a one-year appointment.
"My heart is to serve Austintown, so, in doing so, I don't have any inclinations toward politics," Mr. Stauffer said. "I received grace from my [church] leaders to do this for a year, and I'm happy to be able to serve."
Oles said the trustees had worked with him on several projects in the past in his capacity as pastor, and found him "easy to work with."
"In addition to that, he has expressed no interest in running for the office, and we didn't want anyone who wanted to run for the office to have an unfair advantage."
Oles and Davis agreed that Mr. Stauffer was the "right choice at the right time," Oles said, because of his business experience running a church and because he is well-respected within the community.
The trustees had multiple people express verbal interest in the position, and the township received five written notices of interest, including one from retired Fire Chief Andy Frost Jr.; former trustee Ken Carano; Andrea Paventi, executive director of Mahoning County Treat Alternatives to Street Crimes; Bruce Shepas, co-owner of Austintown Bounce; and Warren "Bo" Pritchard, another former Austintown trustee.
"Lisa and I were elected to make tough decisions, so that's why we didn't ask for letters of interest," Davis said.
Mr. Stauffer is excited to have a unique way to serve his community and hopes to bring about a vision he has had for several years, a multigenerational center to go along with the Austintown Senior Center, which he helped establish through grass-roots efforts, Davis said. The new trustee also wants to see a closer connection between the trustees and the Austintown Board of Education.
The church interacts a lot with the schools, Mr. Stauffer said, including help with Camp Woodside, a free lunch program provided in the summer for students who are eligible for free or reduced lunch.
His wife and two children, both in their 20s, have been very supportive of his decision, Mr. Stauffer said, and he is looking ahead to the difference he can make for his community.
"It feels really good. This is not something that I ever anticipated," Mr. Stauffer said.
Mr. Stauffer will be sworn in Jan. 14, before the regular meeting of the Austintown trustees.