Hubbard's Shirley Flynn defies odds on mat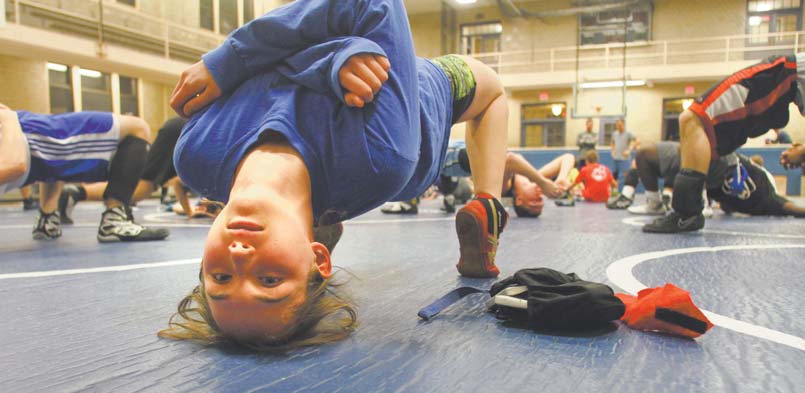 ---
SEE ALSO: J-Milton set for wrestling tournament
HUBBARD
To what extent would growing up in a house with nine siblings, three dogs, one cat and one bunny contribute to producing a teenage girl wrestler?
Girl Wrestler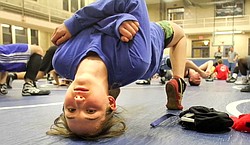 Video
Hubbard High School 10th grader Shirley Flynn is a member of the school's wrestling team.
Girl Wrestler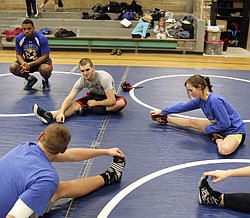 Gallery
Shirley Flynn wrestles for Hubbard High School.
If you thought a great extent because of the "survival" component, that's only part of Shirley Flynn's motivation for grappling with mostly boys in a sport that favors split lips over lipstick.
The 15-year-old sophomore is more than a token member of the Don Newell Jr.-coached Eagles team.
"It's still not a common thing," Newell said in addressing the novelty. "You'll see a couple girls in the state who actually wrestle, but only a handful."
Another local high school female wrestler in recent years was Fitch's Jessica Smith.
The 5-foot-2 Flynn, the oldest daughter of Jerry and Barb Flynn, played a key role in Hubbard's dual-match win over Liberty on Dec. 19.
"Her pin actually forced momentum our way," Newell said of Flynn's 106-pound event, which was the eighth of 15 weight classes that day.
Flynn (12-8) and C.J. Latronico engage in weekly wrestle-offs in practice to decide their assignments for the week. The wrestle-off winner is entitled to start at 106 pounds, while the wrestle-off loser is bumped up to 113.
"It goes back and forth," Newell said of the battles between the ultra-light partners.
Newell considers Flynn, who also plays varsity soccer, a legitimate member of the varsity squad.
"She's one of the guys," Newell said. "She's one of the hardest-working kids I have on the team."
Flynn also held varsity status as a freshman until she sustained a season-ending dislocated knee in practice.
Flynn wrestled another girl — and lost — when the Eagles faced Conneaut last month.
"She was really strong," Shirley said of Alesha Zappitella. "I heard that that girl would be doing the Olympic trials when they come up."
As a junior, Zappitella won the 105 weight class at the U.S. Girls Wrestling Association Folkstyle Junior Nationals in Oklahoma City in March, when she earned All-American status.
Shirley has been wrestling since first grade, when she watched her older brothers, Robbie and Josh, in middle school. Her sister, Sarah, is currently on the middle school team while a younger brother, Jeremy, as well as sisters Amber, Allison and Emily are on the Hubbard Little Eagles squad.
Newell, in his third year, has no problem coaching a girl because his own sister wrestled, too.
"Having two older brothers is what toughened her up," Newell said. "When dad showed us a move, we'd practice on her."
Hubbard's team comprises nine freshmen, four sophomores, seven juniors and one senior — who never wrestled before — at 138.
Flynn has the advantage of being very flexible.
"She's hard to pin because she's so flexible, like a gumby," Newell said. "Her body bends so easily — not a bad bend, but her arms go back behind her head like it's nothing. And she's not intimidated even though she gets bloody noses just like everybody else. She's been through the wars. She's a tough cookie."
Although the mid-to-heavy classes draw the most interest, in general, Flynn is tenacious and Newell has no reservations about her worthiness.
"She's an in-your-face kind of wrestler, so when you shake her hand, it's go-time and you're going to know real quick that she's out to kick your butt."
If she gets the varsity at 106 by beating C.J. that day, then she goes up against the 106 opponent.
"It doesn't matter who they are, I send her out. It's her job just like everyone else's job [to win the match]."
The coach stressed her best quality.
"She controls her opponent well when she's on top. Even on the bottom, it's hard to hold her down."
Newell said that wrestling is not a strength sport.
"It's more moves, balance and leverage than anything. I see muscle-heads [football players] go up against someone and get destroyed because muscles don't have anything to do with wrestling; it does and it doesn't. If you have muscles and you're good, that's a plus, but if you have muscles and you're not good, then you suck. Technique is a big part of it."