Muskegon looms for Padulo, Phantoms
Face Off: Phantoms vs. Lumberjacks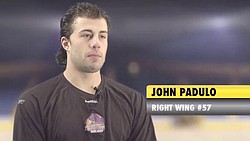 Video
John Padulo and Austin Cangelosi of the Youngstown Phantoms discuss their expectations for this weekend's game.
Face Off: NHL Top Prospects

Video
Austin Cangelosi of the Youngstown Phantoms was chosen for this years USHL/NHL Top Prospects game. His friend and teammate John Padullo discusses how they first heard the news.
Cangelosi selected to second Top Prospect game
By Tom Williams
YOUNGSTOWN
Former Muskegon Lumberjack John Padulo is trying to not put too much emphasis on this weekend's two-game series against his former team.
It's not easy.
"It definitely means something to us," the Youngstown Phantoms' forward said Thursday as the team prepares for its first two hockey games of 2013. "Chasing that fourth spot, every game is important to us. In the conference, it's a four-point game."
Although the Phantoms (13-15-0, 26 points) are in seventh place in the Eastern Conference standings, they are just three points behind fourth-place Chicago. This season, the top four teams in each conference qualify for the USHL playoffs.
The Phantoms-Lumberjacks games tonight and Saturday at the Covelli Centre will be the second and third of the season series.
The first one, a Phantoms' 6-3 win in Muskegon, Mich., launched Youngstown's turnaround from a rough 5-11 start. Youngstown has won eight of the past 12 games.
"Ever since that game, I think we realized that we can play with any team in the league," Padulo said. "The attitude of the players and the mood in the locker room are really starting to come along. I think we're clicking on all cylinders right now."
Speaking of Muskegon, Phantoms co-captain Austin Cangelosi has earned his second straight invitation to the USHL/NHL Top Prospects Game. The game will be played on Jan. 23 at L.C. Walker Arena in Muskegon, Mich.
Cangelosi, who avoids social media, said he found out about the invitation when Padulo messaged him.
"I wasn't surprised — Austin is one of the best players in this league," Padulo said. "You can count on him every night to bring it.
"He's not the most vocal guy in the lockerroom but he leads by example on and off the ice."
A native of Estero, Fla., Cangelosi is the Phantoms' leading scorer ((10 goals, 17 assists, 27 points) through 24 games.
Last year, Cangelosi was one of three Phantoms selected (defenseman Chris Bradley and forward JT Stenglein were the others). That game also was played at Muskegon.
"Different chemistry, different guys — it was a lot of fun, a lot of good players," said Cangelosi, who doesn't mind that the game is being played in the same rink this season.
"Hockey is hockey — I've no preference," said Cangelosi, who called the Muskegon fans "a little crazy at times."
After stumbling to a last-place finish last season, the Lumberjacks (18-10-3, 39 points) have rebounded and are in second place. However, they are bringing a three-game losing streak to Ohio, including Monday's overtime loss to the Gamblers in Green Bay, Wis.