Library hosts holiday Baby Brilliant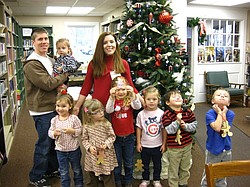 Photo
After they enjoyed a holiday-themed story time, led by Kelly Marafiote (back), attendees, from left, Tim and Emily Bauman, Xannah Zaveson, Nora Kandel, Zoei Zaveson, Eva Camuso, Aidan Kerns and George Camuso were invited to decorate a gingerbread man ornament to take home.

Photo
Children's Librarian Kelly Marafiote led the Canfield Library's Holiday Baby Brilliant: Tales and Talk for 2s and 3s Dec. 19.
By ABBY SLANKER
The Canfield library hosted its Holiday Baby Brilliant: Tales and Talk for 2s and 3s, with Children's Librarian Kelly Marafiote leading the program Dec. 19. In honor of the holidays, Marafiote chose several Christmas-themed books and songs for the children to enjoy.
Marafiote led the children in the opening song which is always sung at the beginning of the story time. Marafiote then moved onto "Clifford's First Christmas" by Norman Bridwell.
Announcing it was time for a song, Marafiote, the children and parents, sang "Five Little Reindeer" using their fingers to count along to the song.
Marafiote then read the children "Jingle, Jingle" by Nicola Smee. When she finished the book, she offered the children a chance to get up and move to the song "Ginger Man, Ginger Man," which the children followed along with movements and motions.
"Five Christmas Penguins," by Steven Lenton, a new book to the library, was next on the agenda.
Marafiote asked the children their favorite Christmas carol and was answered with several different songs. She took requests and the children sang along to "Rudolph the Red Nosed Reindeer," "Frosty the Snowman," and the Chipmunk version of "Jingle Bells," which was the No. 1 requested carol.
The children then sang "Let's All Do a Little Clapping," to the tune of "We Wish You a Merry Christmas."
To end the story time, Marafiote led the children and parents in the closing song. She then invited the children out to the main part of the library to make a special holiday craft.
Marafiote had laid out crayons for the children to decorate gingerbread man ornaments, but added a twist. Before decorating the ornaments, which were made out of sand paper, the children rubbed cinnamon sticks all over their gingerbread man to give it a warm holiday scent.
More like this from vindy.com