Cardinals coast past rival Dogs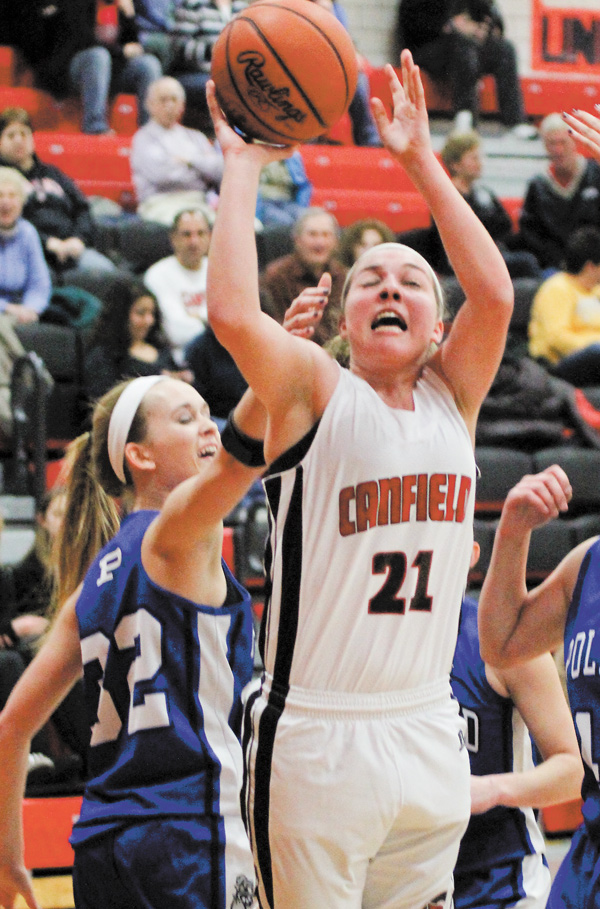 Photo
Canfield's Rachel Tinkey (21) goes up for a layup as she is defended by Poland's Kasie Serich (32) during the first quarter of their All-American Conference American Division basketball game Thursday at Canfield High School. The Cardinals routed the Bulldogs, 56-18.
By Ryan Buck
CANFIELD
Rivalry games aren't supposed to come this easy.
Clashes between the Canfield and Poland girls basketball teams usually come down to the wire, get the fans off their feet and provide some late drama.
This was not one of those nights.
Behind 20 points from senior standout Sabrina Mangapora and strong team defense, the Cardinals (9-1, 4-0) jumped out to a 14-4 lead at the end of the first quarter and coasted past the visiting Bulldogs, 56-18, Thursday night at James W. Watkins Memorial Gymnasium.
Canfield coach Pat Pavlansky seemed unusually relaxed for a game of such magnitude, but the win was still satisfying.
"It's always special to beat your rival," Pavlansky said.
The 18-year coaching veteran was as active and meticulous as ever along the sideline, but his renowned intensity was toned back late as the Cardinals held Poland (9-3, 2-3) to eight field goals in the contest.
"I don't care what the score is, it's special beating your rival and we just said that inside [the locker room] that it's extremely fun to go out there and make it difficult for them to score baskets," Pavlansky said. "They missed some open shots. I'll check the tape, but I don't think they got too many open ones. We really did a nice job."
Canfield jumped on the visitors early. A full-court press forced three Poland turnovers in the first two minutes that the Cardinals turned into a quick 6-0 lead.
With under a minute left in the opening quarter, Abby Baker knocked away a loose ball and found Allison Pavlansky for a fast-break lay-up and the 14-4 advantage.
The Cardinals were adamant in the need to establish an early lead.
"We knew that was going to be important for us, especially against Poland because they never give up, so you've got to get the pressure on them," Mangapora said.
Ten of those first-quarter points came from turnovers.
With two minutes gone in the second, Mangapora rebounded two misses, then muscled her way to a three-point play with two Bulldogs draped across her back. The free throw was her 11th point and gave Canfield a 22-9 lead.
"We knew that Poland ia a really aggressive team so we figured just take it to them," Mangapora said. "We either get the foul or hit the shot."
Working alongside forward and classmate Kayla Barko, who had 10 points of her own, Mangapora's efforts helped Canfield get 20 of its 28 first half points from shots in the paint.
"Our big girls dominated the paint," said Pavlansky. "Scoring wise, those two have done a wonderful job of sealing people off and it makes it difficult. You've got Sabrina outside who can score from anywhere and then you can't help on Kayla then."
A week after hitting 11 3-pointers in a win over Boardman, going inside worked well last night for the Cardinals.
"You can pick your poison," Pavlansky said.
Six of Katie Serich's 10 points came from behind the arc to lead Poland. Aleah Hughes battled for four points in the paint.