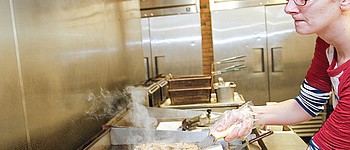 24-year-old hopes to grow Walrus Subs into a chain
Published: 1/4/13 @ 12:01
By SUSAN TEBBEN
stebben@vindy.com
AUSTINTOWN
The 24-year-old owner of Walrus Subs on Raccoon Road hopes it's not just the giant walrus mascot or the oil painting of John Lennon greeting visitors at the door that keep people coming back.
"I bought the dream," said Alie Ruheim, Walrus Subs' owner who also cooks, cleans, preps, opens and closes his shop.
He takes orders by phone and in person, making sure to ask how the customer is doing, he said.
"The biggest thing is treating people well," Ruheim said. "Consistency is key."
He cooks the subs, cheesesteaks, gyros and other things on his menu, ranging from $5 to $10. Daily specials are listed on a dry-erase board at the front of the restaurant. He cuts the meat for the gyros off the spinning rotisserie — meat he buys from a business in Warren.
"I try to buy everything local," he said, adding that ingredients are key for his food to taste authentic. "My cheese-steaks are straight out of Philadelphia, my gyros are straight out of Greece."
Formerly of Brookfield, Ruheim was looking for a business when he stumbled upon the Austintown shop looking for a new owner after the former owners wanted to leave the business a year and a half ago.
He has only one other employee, but he gets a little help from someone even closer to him. His mother, Rose Mary, not only helps take in shipments and keep supplies ready for orders, she lets Ruheim use her marinara recipe.
"She's a full-blooded Italian, so she knows how to make it," Ruheim said.
Rose Mary Ruheim said she would help her son get started in the business and has been impressed with his work.
"I told him he's going to put a lot of time into this place and [success] is not going to happen in one year," she said. "He knows how that is because of the hours his dad put in at his stores."
As the son of a convenience store owner, Ruheim had experience in that end of the retail business, but he wanted to move into the restaurant business and bring new life to the sub-shop domain, a dominant category in the food world.
But Ruheim doesn't look to places such as Subway and Quiznos for his inspiration to become the next big chain. He only has to look across the road to Fernando's Wedgewood Pizza.
"I look up to him," Ruheim said. "He's an institution over there, and he's part of the community. That's what I want to be."
In his efforts to become a part of the community — arguably the most important part of owning a business, Ruheim said — he has reached out to the Austintown schools, feeding the football players his signature cheesesteaks and gyros. He has reached out to other local businesses as well, allowing many to keep their business cards on the front counter, within easy reach for customers.
The one other employee, Nicole Brooks, has been along for the ride for a year and said the restaurant is a "home away from home" for her.
"I love the environment," Brooks said. "Alie works with me, and I enjoy the cooking. It's just a nice place to be."
Though he has only one shop right now, Ruheim's goal is, of course, to expand. He said the only way to become a big-time chain is to believe it's going to happen.
"When I have my franchise," he said, "I want to find family-oriented people, that's the biggest thing for me: people that want to have a family-owned business, who are dedicated to it."
The hardest part of Ruheim's time as the owner of Walrus Subs has been getting the customers back in and getting the word out that the shop is different, despite the name they might recognize.
"Before we bought it, there were inconsistencies," Ruheim said. "Now we're doing things differently, with a better product and so much to choose from."
Don't Miss a Story
Sign up for our newsletter to receive daily news directly in your inbox.