Meteorologist Mark Koontz signs off at WFMJ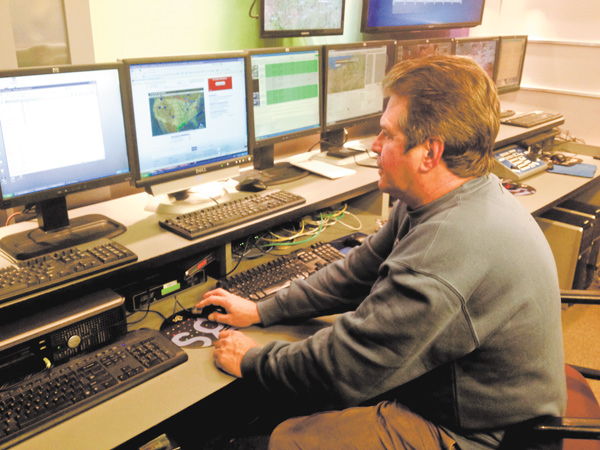 ---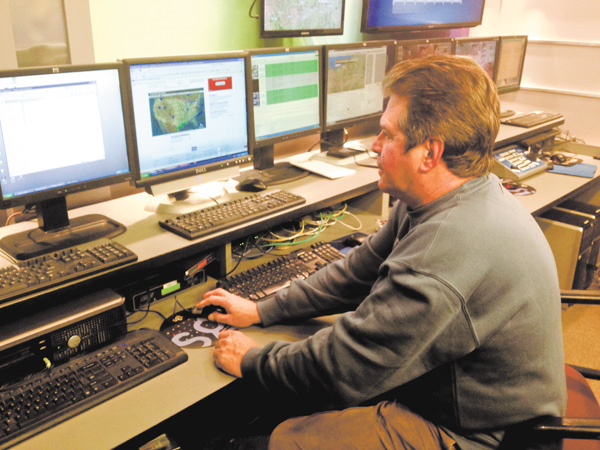 Photo
Mark Koontz, chief meteorologist for 21 WFMJ-TV, works on a forecast at the station. Koontz is retiring, and his final weather report will be today.
By GUY D'ASTOLFO
YOUNGSTOWN
The forecast for Mark Koontz is sunny and bright.
The 21 WFMJ-TV meteorologist will end his 40-year broadcast career today after giving his final weather report on the 6 p.m. news.
His retirement brings to an end four decades of delivering the highs and lows. He spent the past 11 years in Youngs-town, where he became a media fixture.
Koontz is looking forward to some down time.
"It's time to kick back a little," he said.
Koontz suffered a much-talked-about stroke on the air six years ago while giving his weather report on WFMJ. The Canton-area resident took it as a wake-up call.
The stroke "set the tone of my life to change things," he said. "[Broadcasting] is very stressful, and you have to monitor yourself. I have a different lifestyle now. I go to the Cleveland Clinic regularly [for check-ups], and I've entrusted my life to them. I sleep more, walk more and go to Florida a lot."
Florida figures prominently in his retirement plans. He plans to spend even more time there, just taking it easy.
Koontz, a native of the Canton area, began his broadcast career in 1973, while a senior at Ashland University. He worked for WVNO radio in Mansfield and then landed an internship with WEWS Channel 5, in Cleveland.
WEWS would soon hire Koontz. "I was 22 years old, and they gave me an opportunity in what was then the eighth-largest market in the country," he said. "It was a milestone, because I was the youngest person to be hired [for on-air work] in Cleveland at the time. The newspapers ripped me apart — 'Who hired this kid?' I went through a lot for the next five years there, but it worked out."
Koontz next moved on to WJW Channel 8 in Cleveland, and stayed there for 26 years.
He came to WFMJ in 2002 and was promoted to chief meteorologist in 2007.
"I wanted out of the pressure-cooker of Cleveland," he said. "Working in Youngstown can be a battle, but it's a good thing. There's nothing wrong with medium-market television — and I was in the big leagues for a long time. It's a smaller pond, but I wouldn't trade anything that I've done."
Koontz commuted daily to Youngstown — first from the Cleveland area and then Canton — but the city nevertheless left a strong impression on him.
"Youngstown is a great city," he said. "For all of the bad you hear about it, the good is the family values in that city. I've never seen anything like it in my life. Not in Canton, Akron or Cleveland. It's a family-unit city."
That family-first attitude also was felt in the WFMJ newsroom.
"I have more friends in that building than I ever had at channel 5 or 8," said Koontz. "We are tight, and they are good people."
Koontz went on to praise WFMJ general manager Jack Grdic, and his father and predecessor, John, who hired him. "John [Grdic] had a knack for hiring talent," said Koontz. "He could look at you and know. And Jack is doing a magnificent job running the station now. WFMJ will not be toppled, and will continue to ride a wave of excellence."
When asked to remember the stories that stood out in his career, one immediately came to mind.
"The 2004 floods in Lisbon and Columbiana County," he said. "That was memorable. The creek was the size of a river. John [Grdic] put me in a live truck and said, 'Go get 'em.'"
Other stories that he will never forget include the Xenia tornado of 1974, which he covered while working for Channel 5, and the Newton Falls tornado of 1985, which he covered for Channel 8.
Jack Grdic, who calls Koontz "the dean of Northeast Ohio weather and a terrific colleague," said he always will remember his live reporting during the Columbiana County floods. "I can still see him standing near a raging river of water that nearly swept him up," said Grdic. "He really brought the story home to the viewers, and it was some of the best live-weather reporting ever done by the station."
Koontz will be replaced by Eric Wilhelm, a New Philadelphia native who recently came to the station after working as a senior meteorologist at AccuWeather Inc.
"I am humbled and honored to succeed a truly extraordinary meteorologist and broadcaster," said Wilhelm.
Grdic praised Wilhelm for his accurate forecasts and weather knowledge and said he's excited about the enhancements he plans to bring to WFMJ's weather department.
Grdic also announced that weather forecaster Jess Briganti has been added to the station's morning show, "WFMJ Today." Briganti had been filling in on the show since the departure of Mark Monstrola last year.